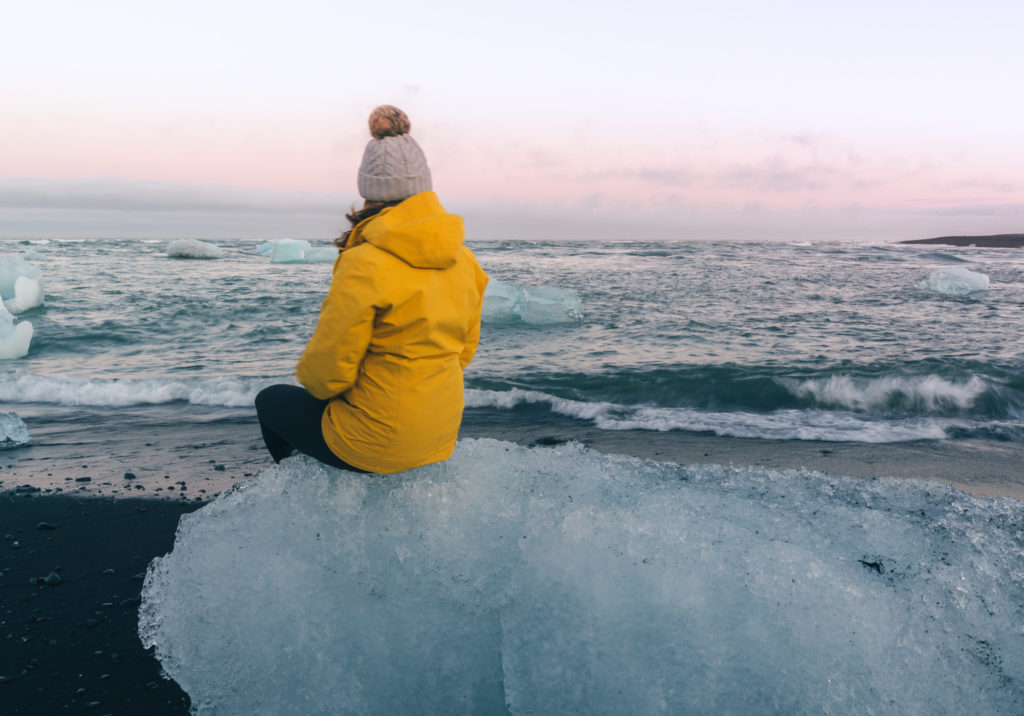 How Much Does an Iceland Trip Cost?
Thanks to Icelandair and WOW Air, it's usually pretty cheap to fly to Iceland. Once you land, you'll see prices that will make you scratch your head and question reality. Hotels, gas and food are all much more expensive than you're accustomed to back home, so unless you save money in advance, be prepared for sticker shock. In this post, I'll outline how much money
I spent on my two-week Iceland vacation for two people so that you can budget for your trip in advance. I'll also share some ways to save money on your trip (including a couple of things I wish I knew before my trip).
How we traveled in Iceland
I visited Iceland with my husband for two weeks in late June/early July 2018, road-tripping to the Golden Circle, Kerlingarfjöll, Landmannalaugar, the South Coast, Jökulsárlón and Heimaey. We splurged on a couple of activities but for the most part, we had a pretty standard trip, eating out at restaurants and staying at hotels as well as Airbnbs. We didn't do any guided tours or activities, which definitely saved some money.
Cost of hotels in Iceland
As I mentioned above, we stayed at a mix of hotels and Airbnbs each night. If you average the total cost of our hotels over 14 nights, it comes to around $310 per night. Here's a list of all the places we stayed:
Keflavik: Hotel Jazz
Laugarvatn: Héradsskólinn Boutique Hostel (we booked a private room with private bath, booked via Airbnb)
Kerlingarfjöll: Kerlingarfjöll Mountain Resort
Hrauneyjar: The Highland Center
Hvolsvöllur: UMI Hotel
Glacier Lagoon: Hali Country Hotel
Vestmannaeyjar: Airbnb
All the hotels we stayed at were clean and comfortable, although some, like the room at Kerlingarfjöll Mountain Resort, are pretty basic. I chose these hotels because they were close to the places we wanted to visit and in some cases, as with the Highland Center and Kerlingarfjöll Mountain Resort, they were the only option.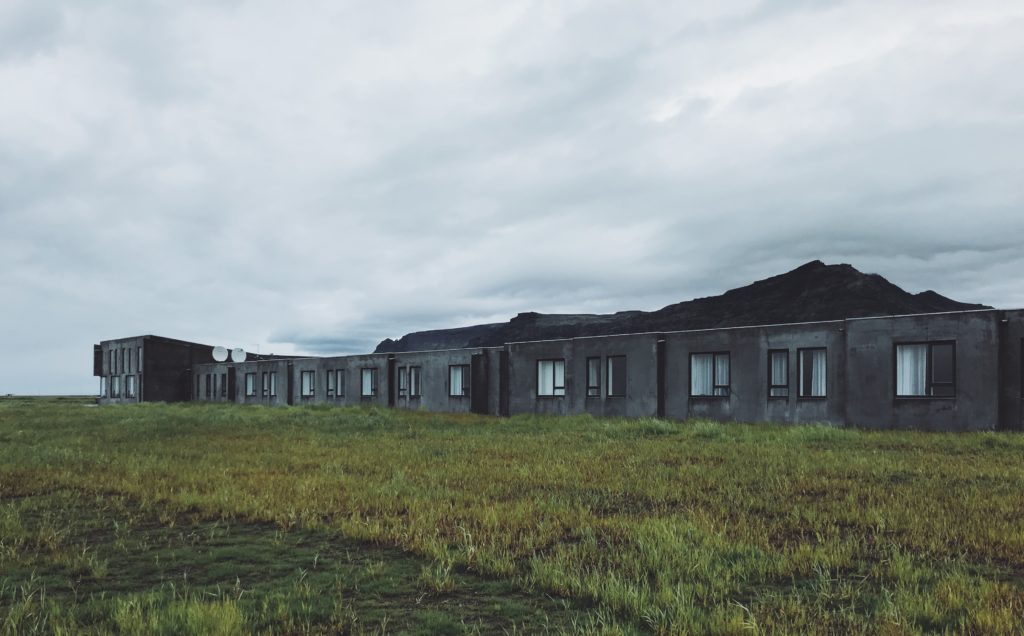 Total hotel cost: $4,300
Cost of food in Iceland
Whether you're grabbing a hotdog at the gas station or sitting down at a restaurant, food in Iceland will definitely cost more than you're used to back home. Here's a look at our average daily food expenditures.
Breakfast: $0 (thankfully the cost of breakfast is included in hotels)
Lunch: $50-70 for two
Dinner: $80-$120 for two
Here are some sample food costs to give you an idea of how much we were spending on individual items:
Icelandic hot dog: $4-5
French fries: $10-12
Hamburger: $20-25
Can of soda: $4-5
Fish 'n chips from a food truck: $25
Lunch at the Blue Lagoon (steak) with a soda: $55
If you venture further away from civilization and head to a remote place like Kerlingarfjöll, expect food costs to go up considerably. Here's what we were spending on food there:
Bowl of lamb soup: $35
Piece of chocolate cake: $12
Ham and cheese sandwich: $16
Needless to say, $90 lunch and dinners were the norm there.
With the exception of a dinner at UMI Hotel, we did not splurge on fancy meals and instead chose to eat at the hotel (in places where that was the only option) or try smaller, family-run restaurants. If you're planning to splurge on fine-dining in Reykjavik or other areas, increase your food budget considerably.
Total cost of food: $1,800 for two people
Cost of rental cars in Iceland:
The type of car you need to rent will largely depend on your itinerary. If you're planning to drive the "F" (mountain) roads in summer, you absolutely need to rent an SUV and receive approval from your rental car agency.
In addition to the cost of the of the car rental, you'll need to budget for rental insurance as well. In most countries, I rely on my American Express rental car coverage to fully insure the car but renting a car in Iceland is a little more complex, with sand and ash storms and river crossings. We opted to rent our car through Lotus Car Rental and paid extra for the Platinum package, which included:
$0 CDW deductible
Tire insurance (we damaged both front tires and did not pay anything out of pocket thanks to our insurance plan)
River crossing protection (highly recommended if you're driving on F roads)
Sand and ash protection
Gravel protection
We rented a Subaru Forrester for our 2-week trip and it handled the F roads and river-crossings well.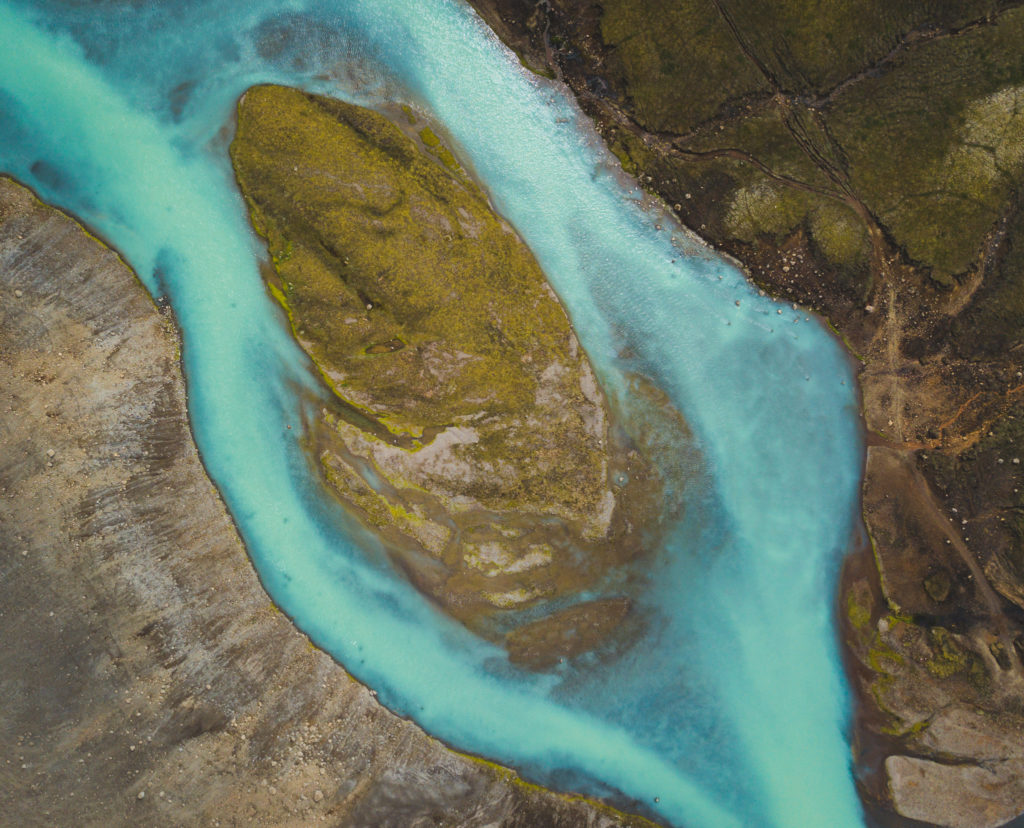 Total car rental cost in Iceland: $2,681
Cost of gas in Iceland:
Gas in Iceland is outrageously expensive, averaging around $8 a gallon. Thankfully, our rental was a diesel and did ok on gas mileage but you definitely should plan on budgeting for the cost of gas in advance.
Total cost of gas in Iceland: $400
Airfare to get to Iceland:
Ok, I'm going to cheat a little on the cost of airfare (but bear with me). Over a year before my trip, I found a fantastic deal on business class tickets from Seattle to Paris on Air France, long before I decided that I wanted to visit Iceland. Once we made the decision to go to Iceland, I purchased tickets from Paris to Iceland via Icelandair on the outbound and WOW Air on the return.
Since most Americans don't fly to Europe just to get to Reykjavik, I'm going to use the average Icelandair price from Seattle, which is $500 per person.
Total cost of airfare to Iceland: $1,000 for two
Other costs:
The only entry free we paid the entire time we were in Iceland was the LAVA Centre in Hvolsvöllur. A few additional things we spent money on: fees to use the restroom, bug hats and a few other miscellaneous items that I'm probably forgetting right now.
Other costs total: $100
Total Trip Cost
Total cost of visiting Iceland for two weeks, for two people = $10,100. Yes, you read that right: $10k for two people.
In case you're wondering, I saved for this trip for a year and a half by automatically moving money from my checking account to my vacation savings fund. I definitely think the trip was worth the cost but I think next time I visit, I'll try to save money on food.
Speaking of saving money, here are a few tips that will help you save on expenses while in Iceland:
Consider traveling with a group of friends. You'll be able to split the cost of the car rental + gas with them, saving a pretty big chunk of change.
Camp: Even Airbnbs and basic guesthouses are fairly expensive in Iceland so camping will save you quite a bit of money. If you plan on camping in the highlands, make sure you bring (or rent) gear that will keep you warm.
Cook your own meals: If you shop at the grocery store and cook at your Airbnb or guesthouse, you'll save a lot of money. Ideally, you should bring some packaged food from back home to supplement meat and fresh items from Iceland. Definitely bring a cooler from home because I did not see them for sale anywhere on our roadtrip
Hitchhike: This one is pretty extreme and not something that I'd try but it seems perfectly safe to do in Iceland. If you hitchhike, be prepared to stand outside for long periods in the rain and wind until someone picks you up. You'll also need a lot of flexibility in your schedule.
Read more about Iceland on Away From the Office:
Two weeks in Iceland: Highlands, waterfalls and glaciers
21 things I wish I knew about Iceland before my trip
Is the DC-3 plane crash worth visiting?
56 photos that will make you want to travel to Iceland
Like this post? Please Pin it!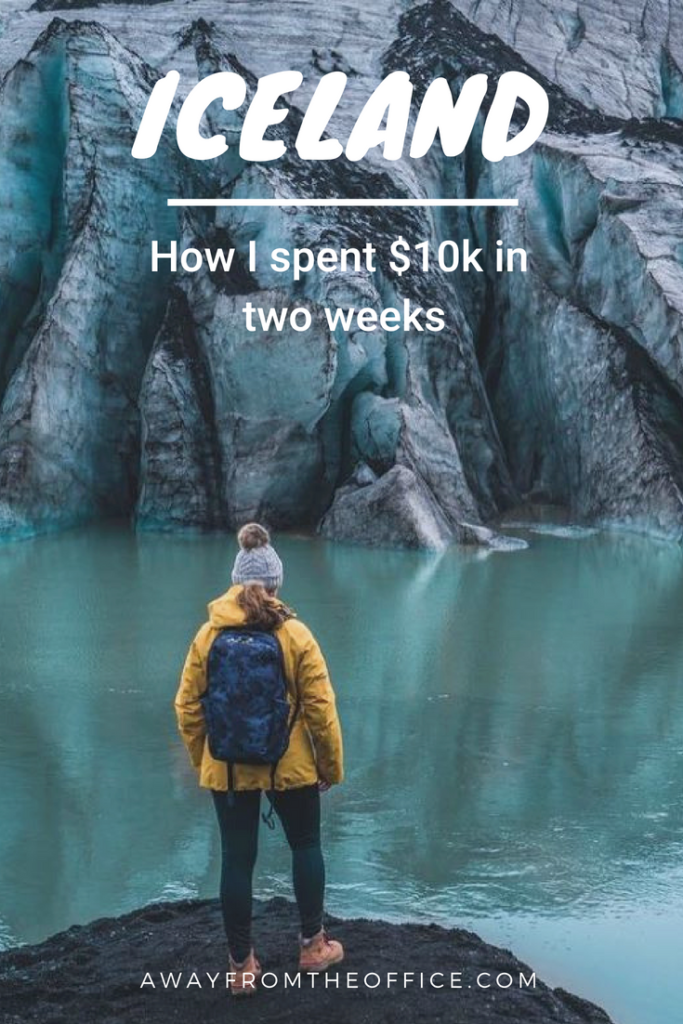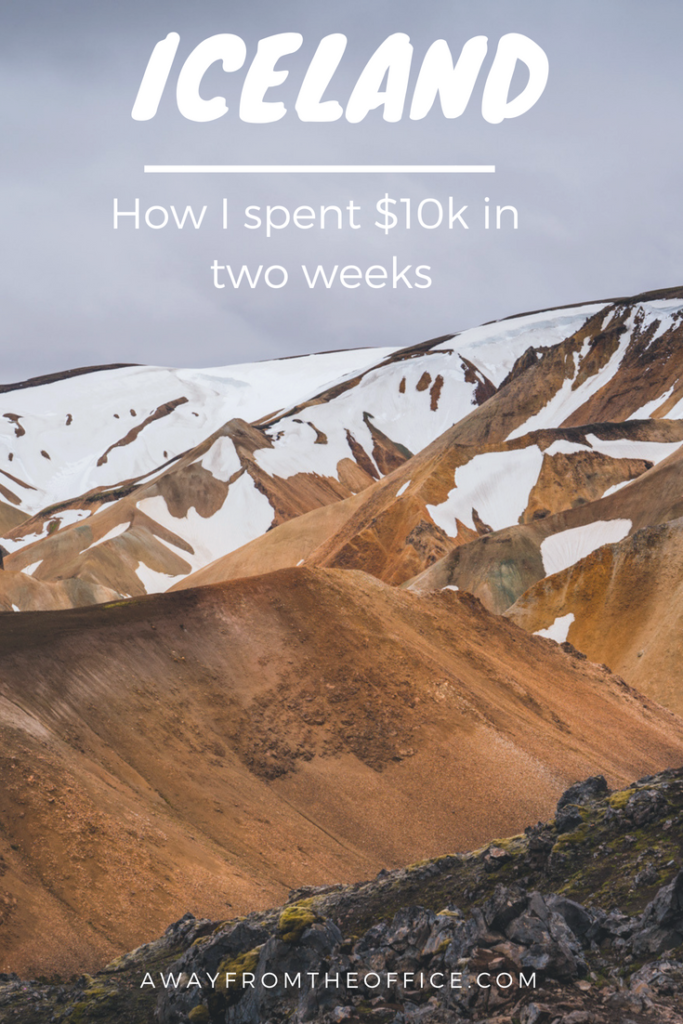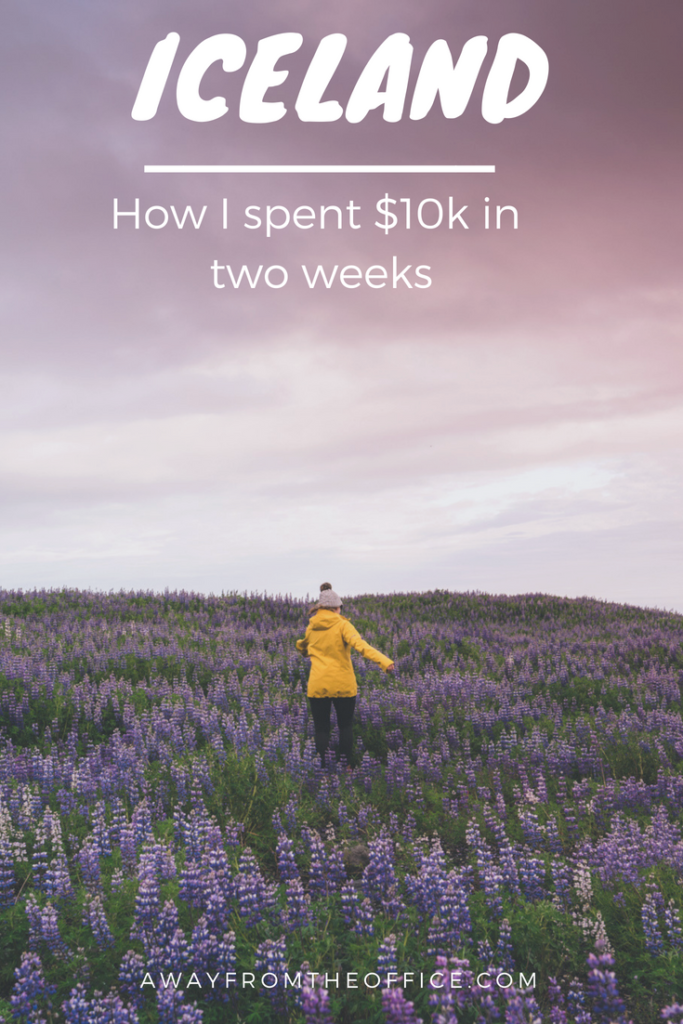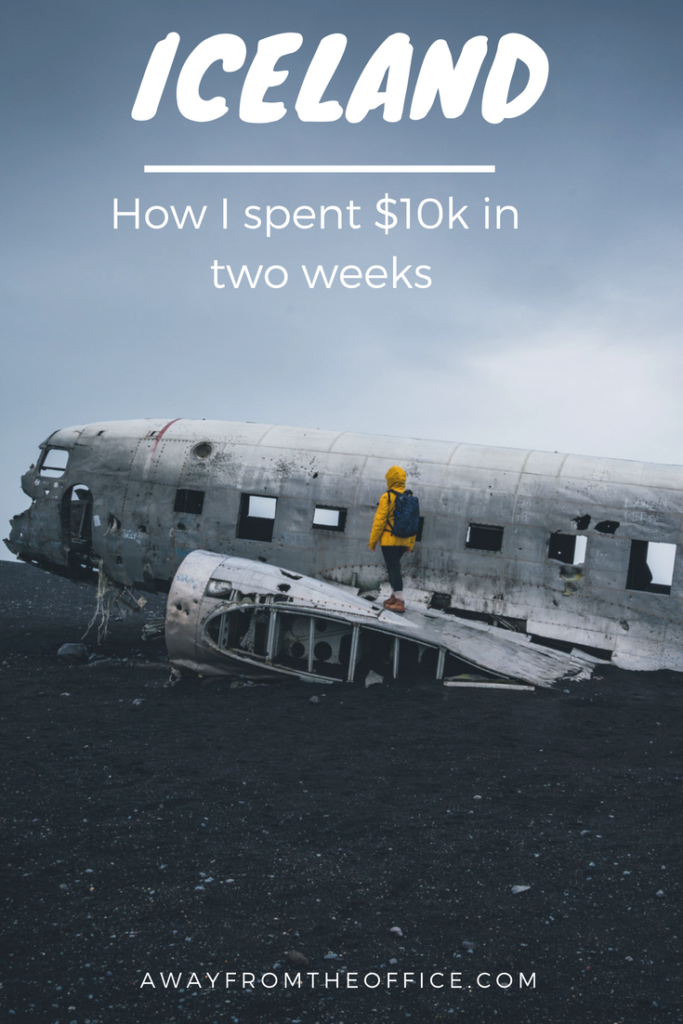 Disclosure: Some of the links above are affiliate links via Booking.com and GetYourGuide, meaning, at no extra cost to you, we will earn a commission if you click through and make a reservation.To view our full privacy policy and disclaimer click here.