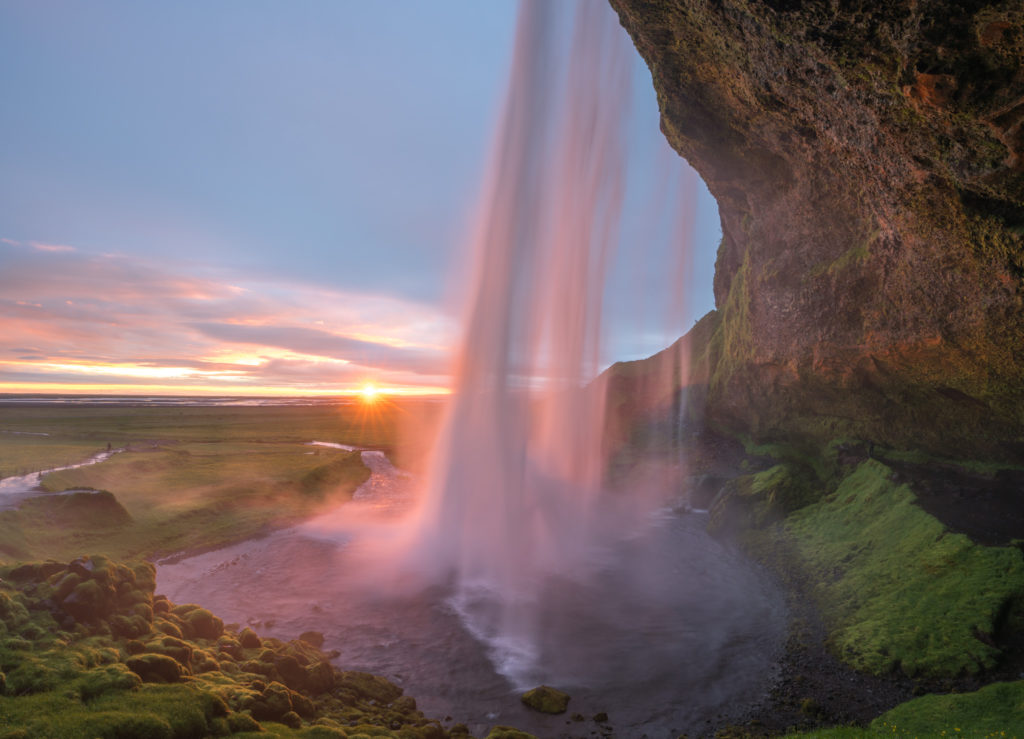 When I was a kid, I was obsessed with National Geographic (and I still am), and I would wait anxiously for my new issue to arrive each month. As I flipped through the glossy magazine, I was forming my future travel list: Isle of Skye, Scotland (check), Bhutan (check), Ireland (check) and Iceland. I finally decided to stop putting off my visit and head to Iceland this year. Despite the crowds, the expense and the weather, my husband and I had an amazing time in this small country filled with jaw-dropping scenery.
There are a few things that I wish I knew in advance, as well as some things I thankfully discovered before my trip. Hopefully these will help you out. Oh, and all prices below are in in $USD.
Iceland is popular: I think everyone knows that Iceland is one of the world's hottest destinations but did you know that it's now the #3 European destination behind London and Paris? Even the "off-season" is popular nowadays, with a lot of companies offering ice cave and aurora tours. If you're visiting in the summer, the most popular tourist sites will be a madhouse during the day. To avoid the crowds, rent a car and spend some time outside of Reykjavik so that you have flexibility to visit at off hours (like 1am in the summer).
Renting an SUV is worth the cost: Research your car rental options carefully. If you plan to drive on an "F" roads (more on that below), you will need to check with your car rental company to ensure the SUV you're renting is approved for "F" roads. When I was researching rental cars, I noticed a lot of smaller, cross-over style SUVs were not approved for these gravel mountain roads.
Even if you don't plan on driving to the highlands, I still recommend an SUV because a lot of regular roads were gravel, pot-holed nightmares. The road up to Háifoss is one example. We saw a car make it but they were struggling and it did not look fun.
An SUV is definitely more expensive than a car but I think it's worth the added cost.
Related: Renting a Car in Iceland: A Heroic Tale of Survival >
Research the route you're going to take in advance, especially if it involves "F" roads: You absolutely must research the "F" roads you're planning to take in advance so that you can determine if you're comfortable with the obstacles on the road. Many "F" roads involve river crossings (yes, as in driving your vehicle through water) and some "F" road river crossings are more difficult than others.
For example, I wanted to visit Landmannalaugar and I knew there were multiple "F" roads that would get me there. When planning my trip, I discovered that F208 from the south isn't typically open at the end of June and even it was, it involves several serious river crossings. We ended up taking F208 and F224 from the north and discovered that while there is a river crossing, it's at the end of the road and there's a parking lot near the river with pedestrian footbridges.
Once you're in Iceland, you'll need to pay very close attention to the road conditions. This site will be your best friend while you're there.
Again, don't consider a road trip without researching your routes carefully.
Rental car insurance is a lot more complicated: When I rent a car overseas, I typically charge the car rental to my American Express, which has an associated car rental policy. When you're visiting Iceland, you'll need to research car rental insurance options very quickly. Beyond the basic CDW (Collision Damage Waiver), most car rental companies offer Theft Protection, Gravel Protection, Tire Insurance, Sand and Ash Protection and sometimes, River Insurance.
This probably sounds like a giant rip-off to you but I promise you that Iceland, with its extreme weather, can definitely do major damage to your car and the last thing you want when ending your vacation is to be stuck with an outrageous repair bill.
We rented with Lotus Car Rental, primarily because they offered a "Platinum Insurance Plan" with all the above items bundled together. After developing two sidewell bulges on the front tires, I'm thankful we purchased the Platinum Package. Since we couldn't find a repair shop with the tires we needed, Lotus Car Rental drove a replacement SUV out to our hotel in Vik.
Driving off-road is illegal: Due to Iceland's sensitive environment, you must stay on marked roads and trails. Driving off-road is illegal and will result in huge fines.
Food is really expensive, although breakfast is typically "free": I knew that food in Iceland would be expensive but it's still shocking how pricey it is when it's time to hand over your credit card. Here are some sample prices for our meals in Iceland (and no, we weren't splurging on luxury food):
Can of soda: $4-5
Lunch at our highland hotel: $90 (this included two sodas, two bowls of lamb soup and two desserts)
Fish and chips from a food truck: $40
Dinner at a local, regular restaurant: $70-$100
Hamburger and french fries: $30
Icelandic hot dog: $4-5 (I thought these were delicious and a bargain)
If you want to save money, I recommend grocery shopping and cooking some of your own food. Next time I go to Iceland, I will likely bring some food from home in order to save money.
The blue lagoon is worth visiting (but it will cost you): While researching Iceland, almost every article and blog I read said to skip the Blue Lagoon because it's overpriced and crowded. A few blogs suggested less crowded thermal pools in Mývatn but we weren't planning to head that far up north.
I discovered a unique experience at the Blue Lagoon called The Retreat Spa. And just to warn you in advance: it's pricey at $265 per person for 4 hours. Even though there's a hefty price tag attached to the experience, I think it's worth the cost since we had the lagoons to ourselves, had a private changing/shower room and enjoyed the spa's relaxation rooms. I was curious what the regular Blue Lagoon was like so I headed in that direction for a few minutes and just like I thought, it was really loud and crowded.
A lot of the information online is outdated or not accurate: There's a lot of old, outdated information online about Iceland so make sure you're looking at current info. For example, a lot of articles mentioned driving right up to the Sólheimasandur DC-3 plane crash. The road was closed a couple of years ago and reaching the plane crash requires a 4km walk in each direction.
Reserve in advance: I can't speak to tours since we didn't take any but you definitely need to reserve your car, hotel and anything else with limited space, such as a ferry, far in advance. I procrastinated a bit when planning my June/July 2018 visit (as in I didn't start booking things until March) and several hotels were sold out on the days I wanted to reserve and trying to find an open space on the car ferry to Vestmannaeyjar was challenging.
Iceland is not a country that you want to show up without any reservations at all.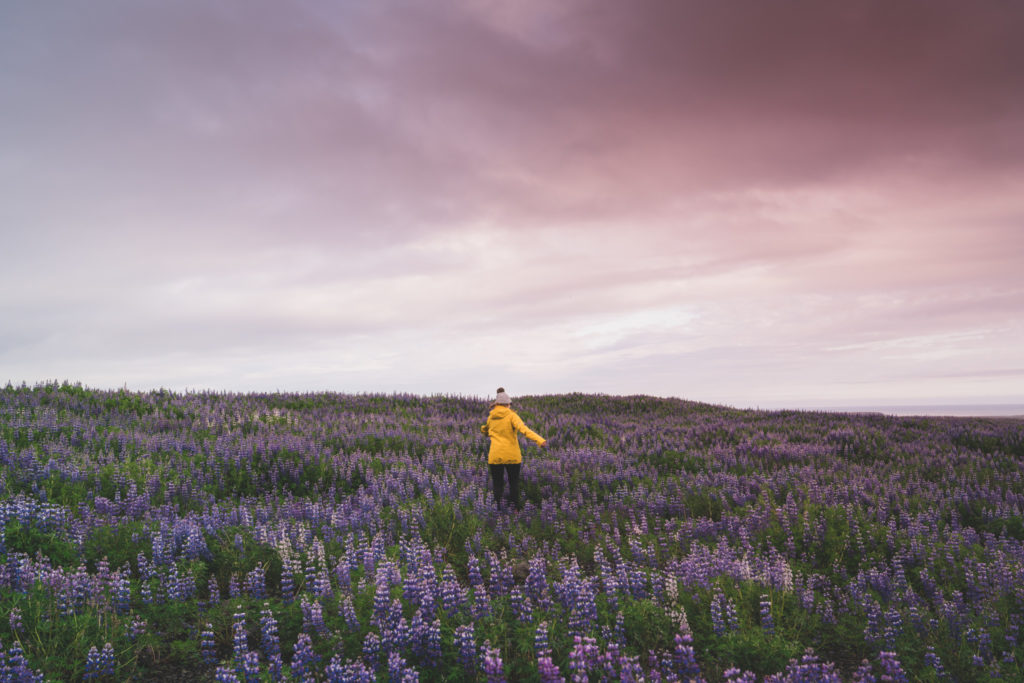 You'll need warm clothes, even in summer: Trust me when I say that you need to bring warm, waterproof clothing with you to Iceland, even in the middle of summer. During my visit to Kerlingarfjöll in late June, I experienced 50 mph winds and 25 degree temperatures, with a windchill down to -15. Icelandic weather is extreme.
I would focus on packing clothing that can be layered so that you can adjust your clothing as needed. Since the temperature can change rapidly, bring your warmer layers with you when you're out exploring. Here's the clothing that I would recommend packaging for a summer visit (adjust the amount of clothing needed for the duration of your visit):
Waterproof pants: It rains a lot in Iceland so these will come in handy. They were also useful as a wind barrier on those extremely windy days. I highly recommend the Columbia Storm Surge Pants, which easily slip over your regular pants.
Waterproof outer shell: You'll want a heavy duty waterproof shell that's also windproof. Don't bother with a light rain jacket. I brought my Patagonia Piolet Jacket with me, which worked well. And as a bonus, it's bright yellow, which worked nicely in photos.
Waterproof hiking boots: I had waterproof hiking boots and my husband didn't. Guess which one of us had warm, happy feet at the end of the day and which person didn't? If you buy new boots before your trip, make sure to break them in. I spend a lot of time hiking on my travels and at home in the PNW and I swear by these Danner boots.
Gloves and/or mittens: These should be waterproof and windproof. I use Vallerret photography gloves, which probably aren't of interest to people who aren't photographers.
Warm socks: These LL Bean socks are the comfiest, coziest socks I've ever worn. I used them on the majority of my hikes and my feet were nice and warm.
Hat: You'll need to keep your head warm with an insulated hat. This Ugg hat worked well and it's really cute.
Short and long sleeve tops: I only brought one short-sleeve top and it was never warm enough to wear outside. I brought 3 long-sleeve tops with varying levels of warmth, ranging from a thin, tissue-like long-sleeve tee to this UnderArmour thermal top. A lot of people swear by wool sweaters but I'm very sensitive to wool and tend not to wear it.
Hiking pants and fleece-lined leggings: I purchased some inexpensive fleece-lined legging to wear under my hiking pants, which kept my legs warm.
Fleece: I recommend a fleece layer over your long-sleeve top. I really like Patagonia's Better Sweater fleece.
Insulated jacket: Yes, this is another layer but combining it with a fleece and a base layer will keep you nice and toasty. I'm a huge fan of the Patagonia Nano Puff jacket. It's lightweight, which makes it easy to layer and easy to pack.
You won't see darkness in the summer (and in winter, you may not see daylight): If you visit in June or early July, the sun will "set" sometime around 11:30 or so and the sky will darken slightly but it won't actually get dark. If you're into photography, this means you'll have a whole night's worth of golden hour. If you're sensitive to light, you'll definitely want to bring an eyemask since most hotels didn't have black-out curtains.
The bugs in some areas are awful: When the sun came out, so did the bug swarms. While the bugs didn't seem to to bite, they kept flying into our faces. We eventually purchased a couple of bug hats at a gas station but I recommend bringing something like this with you.
Get some change for public restrooms: Most articles often mention that Iceland is mostly a cash-less society and while I found credit cards were accepted almost everywhere, there were a few restrooms that didn't have credit card machines. A plus to carrying loose change? Iceland's coins are the cutest coins I've ever seen. I brought some home as souvenirs.
Things move a little slower than you're used to back home: Iceland is definitely on "island time." When locals say they'll meet you somewhere at 10am, what they really mean is that they'll meet you between 10:30 – 11:30am. Maybe they're more punctual in Reykjavik? In the rural areas, they definitely take their time so plan accordingly.
When in doubt, fill up your gas tank: If you're venturing into the highlands, you could drive for hours and not see a gas station. Yeah, it's a boring chore but you know what's even more boring? Being stranded in the middle of nowhere because you ran out of gas.
You will need a chip-and-pin credit card to purchase gas: Speaking of purchasing gas, you will need a chip-and-pin credit card to purchase gas at most service station. This was a huge surprise to me the first time I went to Iceland. Since I have no idea what the pin number is on my credit cards, I had to use my debit card for all of our gas purchases.
You'll want to pull over every 5 minutes to take a photo: Iceland is one of the most beautiful countries I've ever visited. The scenery is constantly changing so you'll want to pull over constantly to take pictures, annoying the crap out of the person driving. If you pull over, make sure it's safe to do so and don't stop in the middle of the road (yes, we saw some people doing that).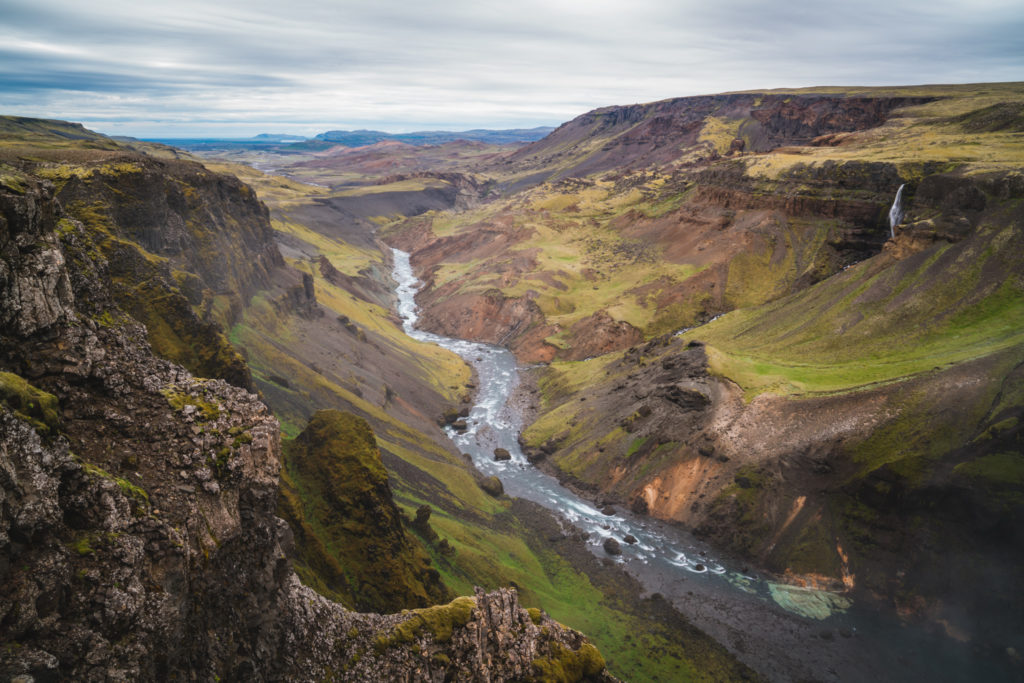 Icelandic hot dogs are amazing: Remember how I talked about how food is so expensive? Priced between $4-5, Icelandic hotdogs feel like a bargain and they're pretty tasty too. You'll find them at almost every gas station and near most of the tourist sites.
And speaking of things to eat, always carry a supply of food and water with you: Make sure you have a meal's worth fo snacks with you as well as water in the car in case a storm arrives suddenly and you have to wait it out. As I mentioned above, we experienced 50mph winds in the middle of summer and the weather forecast called it a "moderate breeze." I'd hate to see what a "severe breeze" looks like.
Bring all of your travel essentials with you to Iceland: If you forget toothpaste or your gloves, you can definitely purchase them once you arrive but you'll be paying way more than you would back home.
Driving takes a lot longer than you would think: Iceland certainly doesn't look very big on a map. By comparison, Texas is about 7 times the size of Iceland and the entire Houston metropolitan area fits inside the entire country. While the country looks fairly small, driving distances are longer than you'd think. The main highway around Iceland, the Ring Road, is only one lane in each direction and is often prone to slowdowns during particularly busy periods. Beyond the Ring Road, a lot of smaller roads are gravel and you'll likely have to drive slower than the stated speed limit to avoid bouncing around in all the potholes.
If you've visited Iceland on a previous tip, what are some of the things you wish you had known?
Like this post? Please Pin It!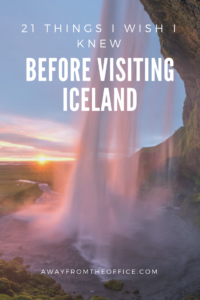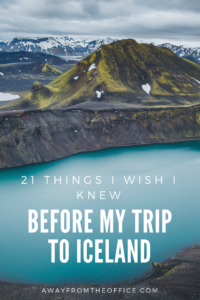 Disclosure: Some of the links above are affiliate links, meaning, at no extra cost to you we will earn a commission if you click through and make a purchase. I only include products that I have purchased myself. To view our full privacy policy and disclaimer click here.