Don't leave home without these must-have items.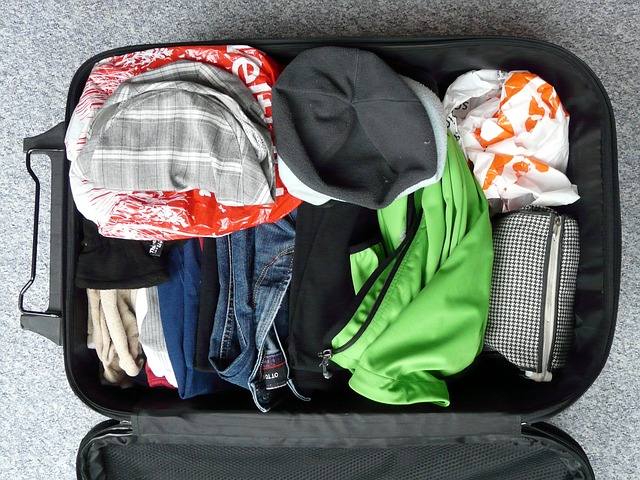 Carry-on luggage
Don't rely on airlines to get your valuables from point A to point B. If you're traveling with irreplaceable items, such as prescription medication, jewelry, computers or anything else you wouldn't want to lose, make sure to include it in your carry-on luggage.
Shop carry-on luggage
Sleep mask and earplugs
Get a good night's sleep on the road even if your hotel room is right next to the bar or your room faces the bright lights of Times Square. Pack your own sleep mask and ear plugs and you'll sleep great even if noise or light intrudes into your room.
Shop sleep mask and ear plugs sets
Extra clothing
Don't get stranded at your destination without an extra change of clothes. I have first-hand experience with this one: my luggage to Colombia was delayed by three days, resulting in an impromptu shopping trip in Cartagena. At minimum, pack at least one shirt, a pair of shorts or pants, socks and underwear.
Medicine
If you get sick while you're on a trip, spending time trying to track down a pharmacy is the last thing you want to do. Be prepared by packing some basics, including painkillers, bandages, vitamins, anti-diarrheal pills and cold/flu relief. If you're traveling abroad, check with your doctor to see if you should bring prescriptions or need any immunizations before you depart.
Reusable shopping bag
Planning to shop at the local markets during your trip? Make sure to pack a reusable shopping bag which is tougher than the average plastic shopping bag. As a bonus, resusable shopping bags can also double as beach bags or picnic bags.
Shop reusable shopping bags
Spork
While it might not seem like a necessity, a spork is handy for eating street food and picnic items along the way. You may also find yourself needing your spork after you've ordered room service at 2am and they forget to bring utensils.
Shop sporks
Entertainment
While you'll ideally spend most of your time away from your hotel room exploring your destination, just about all trips include mind-numbing moments, like taking an underground train to the airport. Make sure to pack some form of entertainment, whether it's an e-reader, portable video game or a deck of cards.
Shop ereaders
Toiletries
Don't waste valuable time shopping for deodorant and toothpaste on your trip. Make a list of your can't-live-without items, whether it's your favorite lip balm or hair gel.
Shop toiletry bags
Smart phone
Pack your smart phone so that you can get email, find directions and stay in touch with loved ones while you're away. If you travel abroad, make sure to disable data roaming, unless you have a pre-paid plan.
Comfortable walking shoes
Depending on your destination, you'll likely bring a pair of dress shoes, flip flops or boots. Pack a pair of comfortable walking shoes so that you can spend hours on your feet without painful blisters or foot cramps.
Shop walking shoes
Camera
Even though most smartphones take great pictures, I still recommend traveling with an actual camera to capture detailed shots. Smartphones generally fall short on photographs taken in the dark or those that require zooming. Many newer cameras have wifi built in, allowing you to share photos on Facebook and Instagram while you're on the go.
Shop cameras
Chargers and travel adapter
If you're packing an electronic device, make sure to bring the charging cable. If you're traveling internationally, pack a travel adapter or else you won't be able to charge any of your devices.
Shop travel adapters
Headlamp or flashlight
From dark buses to hiking out to the beach at night, headlamps and flashlights are an essential item every traveler must pack. Make sure to turn the batteries around so that the flashlight doesn't accidentally turn on in your luggage.
Shop travel flashlights
Snacks
Most major airlines no longer offer free meals and even if they do, it's usually bland or inedible. Bring your own meal and snacks or risk going hungry on your next flight.
Ziplock bags
Ziploc bags are an essential multi-purpose tool for travelers. They protect your belongings against liquid spills, they separate clean and dirty clothing. The bags can be washed and used repeatedly during the course of your trip.
Fold-up duffel bag
These small pouches transform into a spacious duffel bag, perfect for the traveler who needs more space to bring home vacation purchases. Most of these duffels are lightweight and can be checked as luggage on the airplane.
Shop duffel bags
Paperwork
Chances are, your boarding pass, hotel reservations and travel itinerary are all saved online. Print out all essential trip information and take it with you in case you have a technology failure while you're on the road. If you're traveling internationally, you should also make a photocopy of your passport in case it gets lost or stolen while you're abroad.
Quick drying towel
A lightweight travel towel has many uses and won't take up much space in your luggage. Whether you're headed to the beach or want to picnic in a London park, a travel towel is crucial to keeping yourself clean and dry.
Shop travel towels
Travel blanket
Many airlines no longer provide blankets in economy class, potentially leading to a very uncomfortable flight. Even if the airline has blankets available, it's best to use your own to avoid the germs and drool from previous passengers. Pack your own lightweight travel blanket and you'll stay warm and reduce your exposure to germs on the flight.
Shop travel blankets