As I've mentioned in previous posts, I joined Intrepid Travel for a 9-day tour of Colombia. After joining the group in Cartagena and spending a couple of days exploring the colonial city, we packed up our gear and headed to "Santa Marta." I put Santa Marta in quotation marks since we were about 45 minutes outside the city and about 5 km from Tayrona National Park. We stayed two nights at Posada Villa Margarita, a basic hotel with lovely views and even lovelier hosts.
Villa Margarita was a nice, quiet escape after the noise and chaos in Cartagena. There wasn't much to do in the area other than nap in the hammocks or wander around the deserted beach across the street.
During the second day, a few of us from the group opted to head to Taironaka Turismo Ecologico y Arqueologia, about 15 minutes away via bus. The bus was a repurposed American school bus with the tiniest seats in the world. I'm only 5'5″ but still had to turn my knees to the side. The banana plantations we drove by seemed to be endless. At one of the stops, a few man with machetes hopped on the bus and I can only assume they were banana plantation workers.
We reached our destination and started walking through a small village to reach Taironaka. The town was mostly quiet, except for an occasional motorbike passing through, with its passengers carrying large objects like mattresses. We later learned these men were helping someone move and they had to carry mattresses, bed frames, dressers and other household items across the river.
Continuing our way to the archaeological park, we ran into a Kogi man and a young Kogi girl. We asked our guide to ask the Kogis if we could take their picture and they agreed, for a fee of 5 Colombia Pesos, about $2.50. The man was the village leader and wore a white hat, white robes and was barefoot. The young girl was also barefoot, very shy and she carried her own machete. We snapped a few pictures, thanked them and were on our way.
After hiking for 30 minutes, we arrived at Taironaka. We explored traditional Kogi village houses, visited the on-site museum and drank lime juice sweetened with sugar. After walking around Taironaka for an hour, it was time to go river tubing in the Don Diego, which required another long hike up and down some hills. We finally made it to the river and it was time to hop in and enjoy a relaxing float. The water was refreshing, especially after hiking around in the heat. We came to a small park, got out and ordered lunch from a tiny little restaurant. Like most meals on the coast, we had fish, coconut rice, black beans, a small salad and plantains.
The next morning, we made our way to Tayrona National Park, about 3 miles away. We left our luggage with our hotel hosts and took small overnight bags with us. To reach the accommodations requires a long hike so you'll either want to store your luggage or hire a horse to carry it for you. The hike was pretty easy, at least compared to Washington state hiking standards, but I can see how it would be difficult if it was raining. It takes about an hour to an hour and a half, depending on how fast you walk. The path eventually becomes parallel with the beach and you're rewarded with some amazing views.
We eventually reached Arrecifes, our home for the night. I put my bags away as quickly as possible and then Petra and I went in search of beaches asap. The first beach we came across, Arrecifes, is pretty to look at but looks can be deceiving; over 200 people have drowned in Arrecifes. Do not go for a swim at this beach, ever. After walking around at Arrecifes, we came across a second beach. I can't remember what the name is but it was small and had a juice sell and a restaurant nearby. We relaxed in the water and sunbathed for a couple hours before deciding it was time for lunch.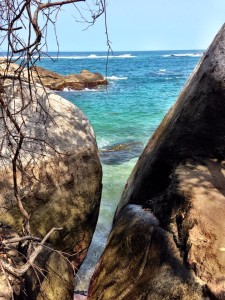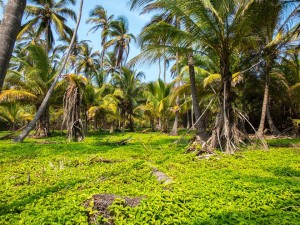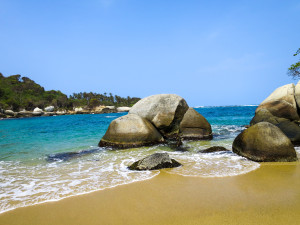 We asked for the menu and were shown a plate of 3 fish. Neither of us could understand the names of the fish in Spanish so we just picked them out based on their color. As with all of our meals in the area, the fish came with coconut rice, a small salad, black beans and plantains. Delicious.
Towards late afternoon, we made our way to La Piscina, another safe swimming beach in Tayrona. I took a nice, long nap in the sun. I'm not much of a napper at home but give me a sunny beach and the sound of waves and I'm out. A guy selling popsicles approached us and I purchased a coconut popsicle, which turned out to be the best one I've ever had in my life. It was very cream with huge chunks of coconut. No wonder he offered a 100% satisfaction guarantee.
We made our way back to Arrecifes and passed some other hammock areas on the way back. Arrecifes was much nicer and quieter than the others we passed by far. After dinner at the campground's restaurant, it was time to get ready for bed. There's a shared shower and bathroom area that was clean and well-kept. As I was brushing my teeth, I heard Petra scream and then I saw a fast-flying black object swirling around the bathroom. It kept darting out at us, flying outside and then going back inside its role. We quickly realized there were two tiny bats inside the hole. While I love bats, I prefer that they don't fly at my face.
Sleeping in the hammock turned out to be more comfortable than I thought it would be. I didn't sleep that well since we had a lot of loud snorers in our group and I left my earplugs behind in my other luggage.
The next morning, we packed up and headed out via the horse trail, which was a little faster and definitely dirtier than the trail we took in. We had a plane to Bogota to catch from Santa Marta so we were in a bit of a hurry. I could've used a couple more days to relax on the beach in Tayrona. If you visit, I highly recommend renting a hammock at Arrecifes or splurging on one of the ecohabs in the park.
For more information on Tayrona National Park, I highly recommend checking out this ultimate guide to Tayrona blog post.
What to bring to Tayrona National Park:

A book or your Kindle. There's not a lot in the form of entertainment so bring a book, some cards, or anything else that will keep you occupied in the evening.
Bugspray
A pillow or something to use as a pillow. I used an extra jacket as my pillow.
Flip flops plus a pair of sturdy footwear for the hike in and out.
Water is very expensive at Tayrona so make sure to bring your own.
Toiletries such as shampoo and soap.
Headlamp or flashlight. My flashlight died during the trip so I had to borrow someone else's to make it to the toilets in the middle of the night.
Spanish phrasebook. If you don't speak Spanish, bring your phrasebook since most people in the park don't know English very well.
Cash to buy food and any extras you may need.
What not to bring to Tayrona National Park:
Plastic bags are not allowed in the park. Pack a reusable shopping tote into the park instead.
Alcohol. You can't bring it in with you but you can buy it once you're in the park.
Expensive gadgets and electronics. While Arrecifes has lockers, you may want to consider leaving some of your gear behind in your previous hotel. Your gadgets may get exposed to the humidity or could fall off a horse, should you choose to hire one.
Nice clothing. You're going to get dirty and sweaty in the park. Don't bring a lot of clothing with you.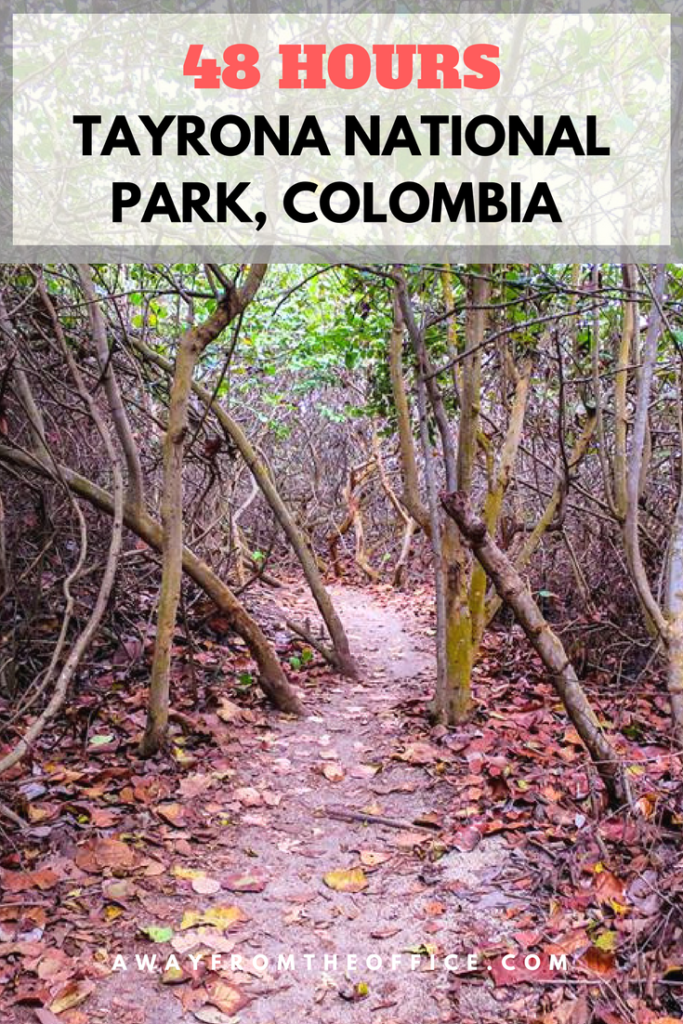 %CODE5%