Olympic National Park is one of the most beautiful places in the U.S. (if not the world) and I'm fortunate to live only a few hours away by car. From snow-capped mountains to rugged, wild beaches to lush rainforest, the park will take your breath away.
If you love the outdoors, you need to plan a trip to Olympic National Park immediately and I've included some tips to help you plan your trip.
When to Visit
Olympic National Park is a year-round destination and when to visit really depends on the type of experience you're after.
July through September are by far the most popular months to visit, with 60% of all visits occurring in this timeframe. You'll have less rain and sunnier weather, but you'll need to book your accommodation well in advance. Another advantage of visiting in the summer is the amount of daylight. In June, the sun rises around 5am and sets around 9:30pm, giving you extra time to hike and explore the outdoors.
The summer also allows you to view mountain wildflowers, which can often reach their peak in late June or early July, depending on the whether. One downside to the summer, aside from the large amount of visitors, is that the waterfalls won't be as full due to the lack of rainfall.
Temperatures range from the mid 40s in the evening to the upper 70s during the day. Even though precipitation is lowest in the summer, you should still be prepared with rain gear since the weather is so variable on the peninsula.
If you want to be surrounded by gorgeous golden and red foliage, visit in the fall. The fall is the start of the rainy season, which typically begins in mid October, with snow falling in the mountains around that time. Temperatures can range anywhere from the 30s to the upper 60s. If you plan on hiking in the high country, stay up to date on the weather forecasts so that you don't get in a snowstorm unexpectedly.
If you want peace and quiet and don't mind chilly temperatures, the winter is a fantastic time to visit. Stay on the coast if you'd like to experience a raging winter storm with large swells. If you're interested in snow activities, head up to Hurricane Ridge for snowshoeing, skiing and tubing. Hurricane Ridge Road is open Friday through Sunday in the winter but a sudden blizzard can close the road at any time so make sure to check out the current road conditions before you go. Some of the National Park lodges also completely or partially close in the winter so make sure you book lodging in advance.
Spring weather in the park is very unpredictable but I can safely say that you will get rained on. I was just in Olympic National Park over the weekend and I experienced rain, sunshine and hail, sometimes within the span of 15 minutes. Spring is quieter than summer and the rainforest is incredibly lush and the waterfalls are flowing this time of year.
What to See
Olympic National Park is huge. To give you some context, the park is 1,442 square miles in size, making it larger than Rhode Island and twice as large as Great Smoky Mountain National Park.
A single road (Highway 101) circumnavigates the entire park. Keep in mind that it may take a little longer to drive on 101 than what Google Maps estimates. Parts of 101 are incredibly windy and since it's only one lane in each direction, you may get stuck behind other cars, especially in the summer.
Here are some of my favorite parts of Olympic National Park:
Hurricane Ridge
Located 17 miles from Port Angeles, Hurricane Ridge features spectacular mountain vistas and can be visited year-round. This area was named for the 75-mile-an-hour winds that often blow here in winter. It's also a spectacular area to spot wildlife (visiting in the morning increases your chances of spotting wild animals). If you're into camping, the nearest campground is Heart O' The Hills, located 12 miles away.
Hoh Rain Forest
As the name implies, Hoh Rain Forest receives over 134 inches of rain annually. All that precipitation makes the forest lush, with moss hanging from the trees. One of the best and easiest ways to experience the beauty of the rain forest is to visit the Hall of Mosses Trail near the Hoh Rain Forest Visitor Center.
Sol Duc Falls
Sol Duc Falls is considered by some to be the prettiest waterfalls in Olympic National Park. Since the hike is only 0.8 miles longer, hikers of all abilities and ages can enjoy the view. Also located in the area are the Sol Duc Hot Springs, which I've heard are nice but I have not had a chance to personally visit.
The Beaches
Olympic National Park features over 73-miles of coastline so you have a lot of options to choose from, ranging from sandy beaches to cliff-side beaches. Almost of the beaches feature wave-beaten seastacks and tide pools teaming with wildlife (make sure to bring a tide chart!).
At the southern end of the park's coastline, you can visit Kalaloch, Beach 1-4 and Ruby Beach. You can stay overnight at Kalaloch Lodge, which features ocean-front cabins at a fairly inexpensive price point.
Further north, you'll find beaches in the Ozette area, with trails leading to Sand Point and Cape Alva. Mora and Rialto beach are a little less remote, located an hour's drive west of Port Angeles.
Quinault Rain Forest
Even if you're planning stop visit  Hoh Rain Forest, Quinault is still worth a visit to see some of the world's largest trees, including a Sitka spruce, which is 191 feet tall and 1,000 years old. This area is also home to another national park lodge with stunning views over Lake Quinault (I also think it's the cutest national park lodge). Make sure to keep your eyes peeled for Roosevelt elk.
Lake Crescent
Lake Crescent is a stunning area, featuring a glacially-carved lake and the nearby Marymere Falls. While the lake looks inviting, the water is approximately 45 degrees year-round.
Cape Flattery
While it's not part of Olympic National Park, you should still make an effort to visit Cape Flattery, the northwestern most point in the continental United States. The Cape is located on Makah Native American land and once at the parking lot, you'll hike for 0.75 to get to jaw-dropping views.

Where to Stay
The question of where to stay is a hard one because it depends on your interests, how many nights you're planning to stay, whether you want to camp, etc.
I've personally stayed in Kalaloch Lodge, which is a fantastic place to stay if you want to stay on the coast and get away from it all. There's no internet access or TV so you'll be unplugged from daily life. There is an on-site restaurant, which you'll want to eat at since dining options nearby are pretty limited. You can also camp at Kalaloch but you'll need to reserve a campsite well in advance.
I've also stayed at Quileute Oceanside Resort, which is located on tribal land (not part of the national park), approximately 14 miles outside of Forks in La Push, WA. Like Kalaloch Lodge, Quileutae is rugged and remote, with an onsite restaurant. Lodging options here ranging from camping to luxury beach-front cabins with jacuzzis.
%CODE3%
While I haven't stayed at Lake Crescent Lodge or Lake Quinault, both have absolutely amazing views and nice restaurants. Two additional national park lodging options include the Log Cabin Resort at Lake Crescent and Sol Duc Hot Springs Resort. You can read more about lodging options here.
If you want to stay outside of the national park, Port Angeles is located on the north side of the peninsula and convenient to the Hurricane Ridge and Lake Crescent areas. It's the largest town you'll find on the Olympic Peninsula.
On the west side of the peninsula, the towns are small and located far apart. The largest town is Forks, which is convenient to the coastal and rain forest areas.
What to Pack
My suggestions on what to pack include:
Camera: Whether you have a DSLR or take photos with your camera, make sure your device is fully-charged because you're going to want to snap some Instagram-worthy photos
Battery packs: You're most likely going to spend your entire day outside and it would be a bummer to run out of phone or camera battery. Bring along a spare battery pack so that you can charge your devices on the go.
Books and board games: Internet access and TVs are pretty limited within the park boundaries. Bring plenty of books and board games with you to keep yourself entertained during the evening hours.
Food: Bring your favorite snacks with you since you'll be spending a lot of time driving around in your car and out on the trails. I often find that I skip lunch when I'm in Olympic National Park, preferring to eat food while I'm on the go. I'd also suggest packing some food with you in a cooler if you're going to stay at a lodge for more than a couple of nights since you may get tired of the lodge food.
Rain jacket: It doesn't matter what time of year you're visiting, make sure you bring a rain jacket.
Warm clothing: Since the weather is so variable, dress in layers and bring a warm jacket, hat and gloves. I visited Olympic National Park in July a few years ago and needed the hat and gloves on a couple of rainy days. I also recommend either waterproof or water resistant hiking pants since you'll probably get rained on at some point and you don't want to spend your day walking around in soggy pants.
Waterproof hiking boots and an extra pair of socks: This is important. The peninsula is very muddy and you don't want to worry about ruining your nice shoes. I also suggest keeping an extra pair of socks with you in case your feet get wet. My feet got soaking wet at Ruby Beach when I was photographing the rock stacks. I can tell you from experience that 40 degree ocean water in your hiking boots is not a pleasant experience.
Hiking poles: If you regularly use hiking poles, bring them along.
GPS or maps: Cell phone service is very spotty so don't rely on your phone to point you in the right direction.
Tide chart: Having a tide chart on hand is a must if you want to see tide pools. It's also an essential item for beach hikes because you do not want to get trapped by a rising tide.
Binoculars: Bring them along if you'd like to look for whales, bald eagles, seals and otters, all of which I've seen on my visits to the park.
Daypack: Bring a daypack with hiking essentials in it, like a flashlight, whistle, compass, pocket knife, first aid kit and extra snacks.
Star chart: If it's a clear night, you may be able to see up to 15,000 stars in the night sky.
Bug spray: It's the wilderness and bugs live in the wilderness. Bring along bug spray if you don't want to get bitten
Other tips:
If you're planning to arrive at Olympic National Park on a Friday from the Seattle area, leave before 2 pm or else you'll get stuck in hellish traffic. Trust me on this.
You can arrive/leave Olympic National Park either from the south end by driving down to Olympia and out to the coast or by taking a ferry from Seattle to Bainbridge Island and driving to the north part of the peninsula from there. I recommend crossing via the ferry in at least one direction because it's a unique Pacific Northwest experience and you'll get some incredible views of downtown Seattle.
I've only camped once in Olympic National Park and it was at Deer Park, located at 5,400 feet and boasting the most stunning sunset and sunrise views you've ever seen. Deer Park is a small campground with 14 sites and operates on a first-come, first-serve basis. I almost regret telling you about this campsite since I sort of want to keep it a secret.
There are several gas stations located on the outskirts of the park. There's a stretch between the Kalaloch area and Forks where you'll travel around 40 miles with no service stations (there's a sign warning you that this will happen).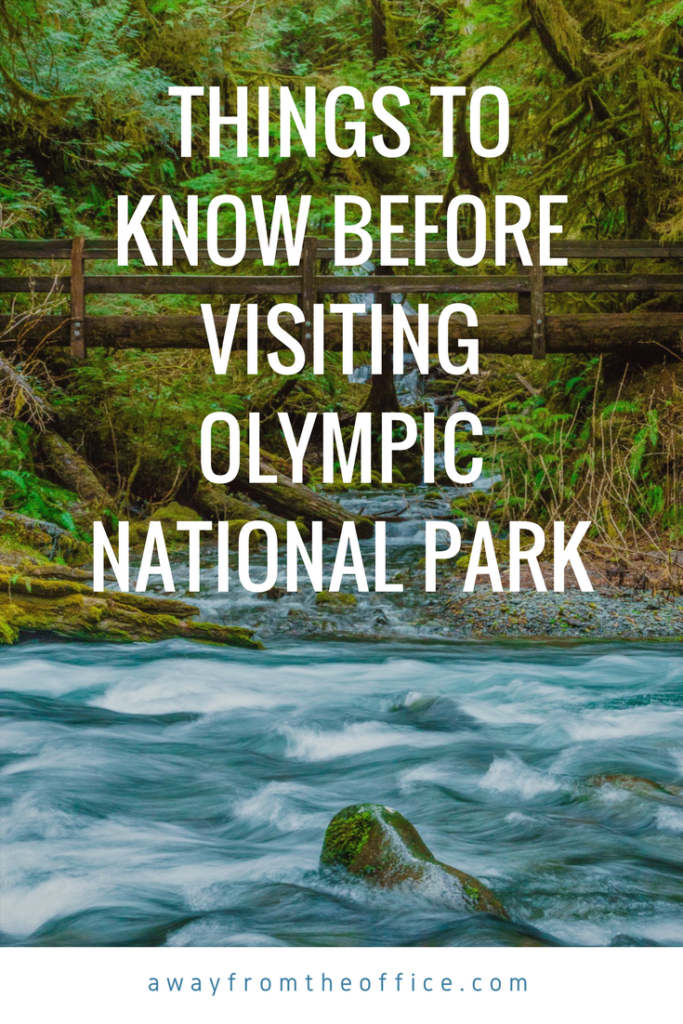 %CODE2%