St. Augustine, Florida was founded in 1565 by Spanish settlers, making it the oldest continuously occupied European settlement in the continental United States. Known as the nation's Oldest City (as well as the Ancient City), this small town has more than enough to keep visitors occupied for an extended weekend, with charming cobblestone streets, historic buildings and landmarks, prime nature-viewing areas and gorgeous beaches.
I went to high school in St. Augustine and although I haven't lived in the area in well over a decade, I go back for frequent visits, exploring local hotspots as well as the well-known tourist areas.
Here's a list of my recommend activities in St. Augustine, ranging from the typical tourist sites to a few locals-only secrets.
Trolley tour through downtown St. Augustine: While I've never taken a trolley tour myself, I still recommend them to all first-time visitors to St. Augustine. The will give you a great overview of the downtown area and since it's a hop-on, hop-off trolley, you can spend more time at any of the locations. The drivers will also share the history of St. Augustine while driving you around the city.
Additionally, if you opted not to rent a car, a free shuttle to the St. Augustine Lighthouse and beaches is included as part of the tour cost.
How to get there: Since street parking is challenging to find, you'll want to park at the Visitor Information Center at downtown St. Augustine, which costs $15. Address: 1 Cordova Street, St. Augustine, FL 32084.
Cost: Approximately $25 per person for adults
Castillo de San Marco National Monument: Known as the "the fort" to locals, the Castillo de San Marcos was built by the Spanish in the late 1600s and it became a national monument in 1900. Park rangers offer tours, providing details of the fort's long history as well as cannon-firing demonstrations. After visiting the fort, wander the outside on the part closest to the bay and keep your eye out for wild dolphins. This area is also fantastic for sunset photography.
How to get there: There's a parking lot in front of the fort, which charges $2.50 per hour. The address is 1 South Castillo Drive, St. Augustine, FL 32084. If you're going to visit other areas of downtown St. Augustine, I recommend parking at the Visitor Information Center parking garage.
Cost: Adults (age 16 and up) are $15 per person; kids 15 and under as well as America the Beautiful pass holders are free.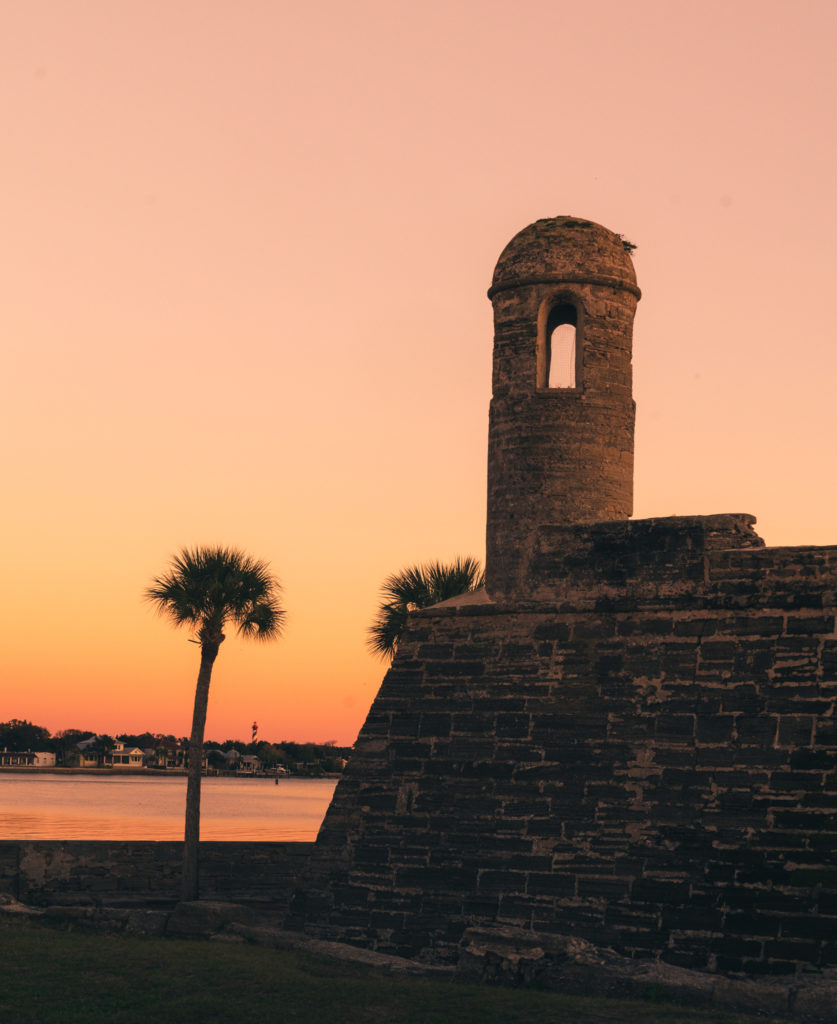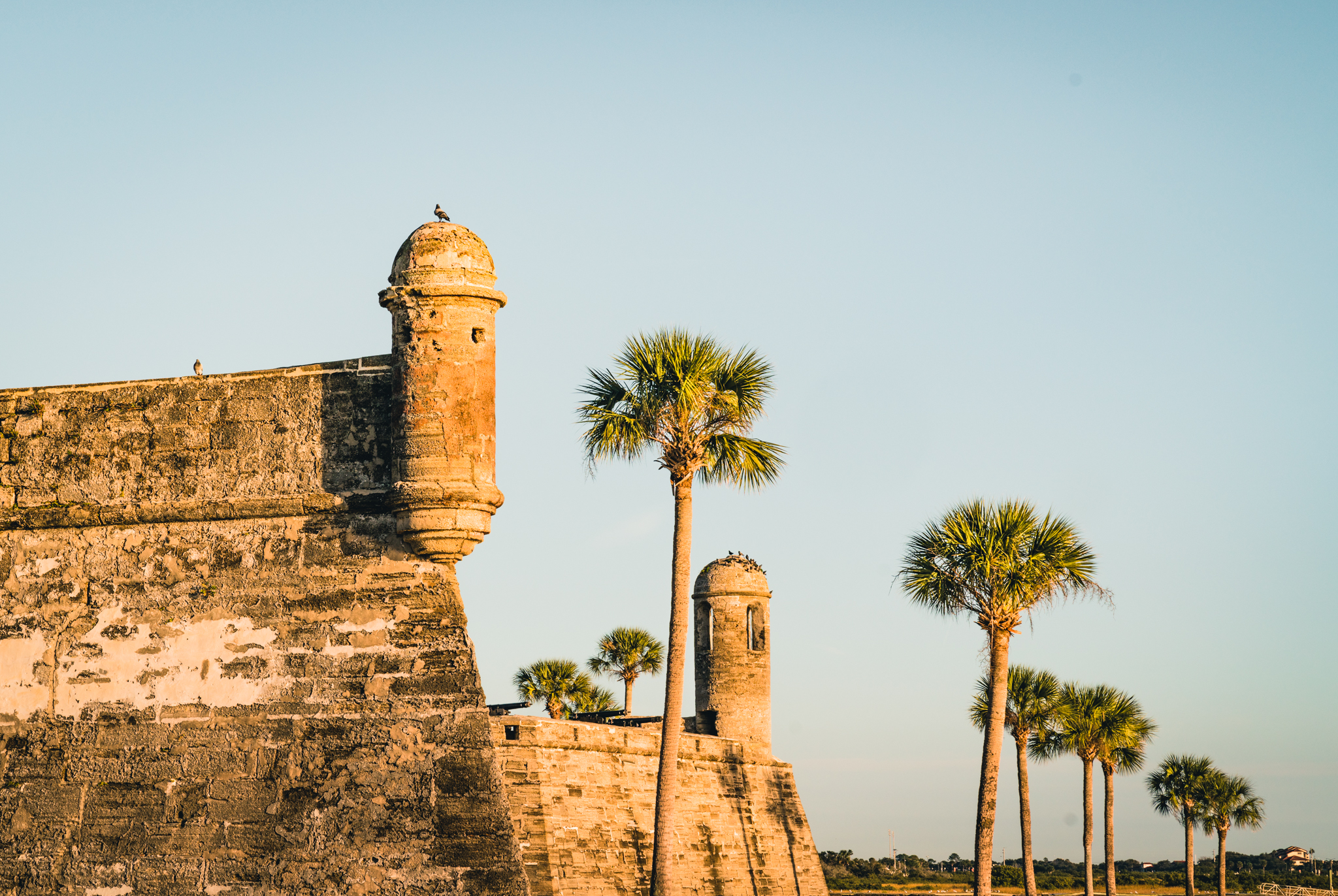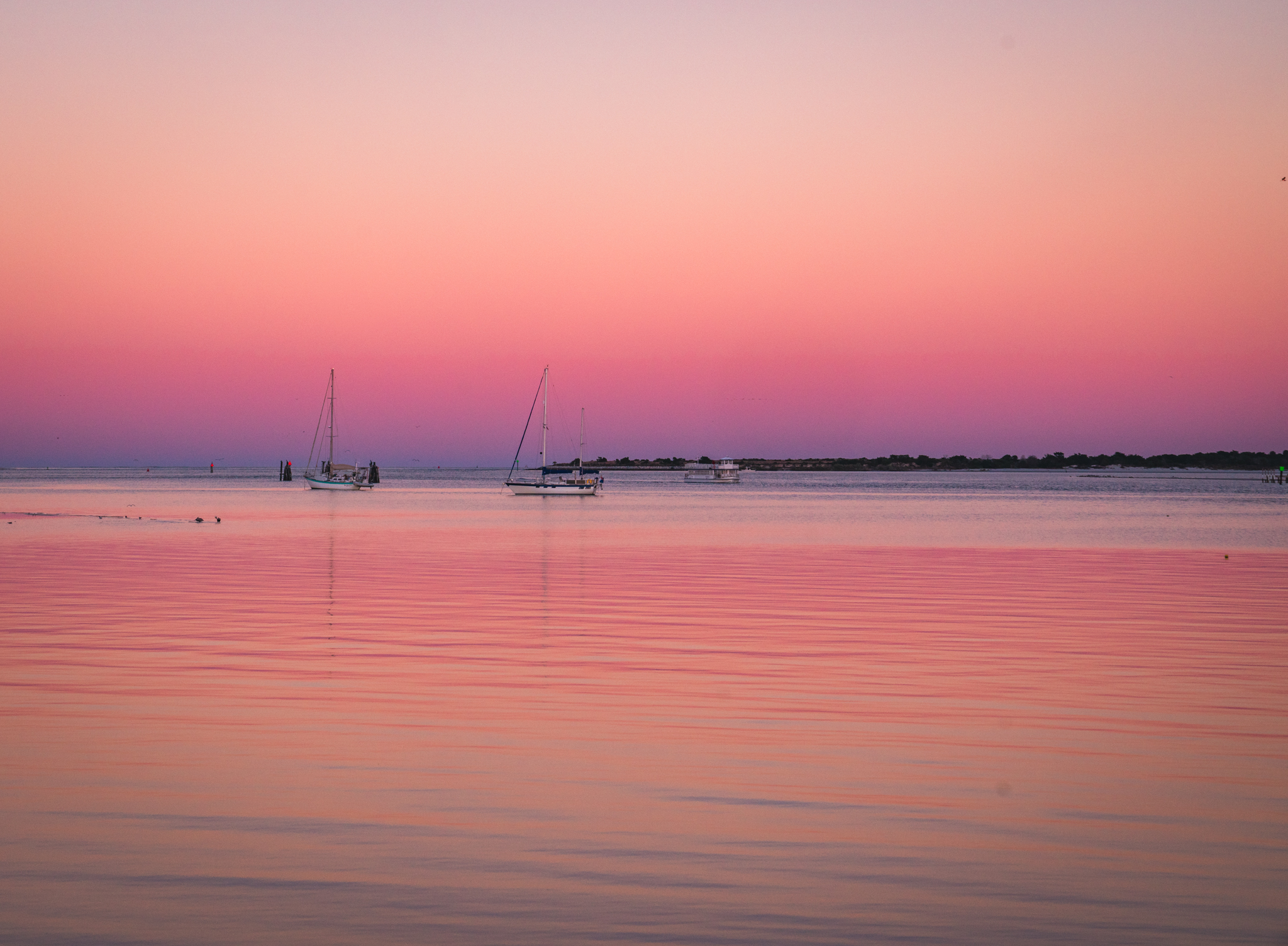 St. George Street: St. George Street is located in the heart of the colonial district, across from the Castillo de San Marco. You can spend hours eating and shopping on this street as well as visiting historic attractions, such as the Oldest Schoolhouse (more on that later). You'll find everything from typical tourist shops selling salt-water taffy and t-shirts to antique shops.
Since I'm often visiting St. Augustine right before Christmas, I'll often shop for stocking stuffers on this street since there are some unique gifts that I can't find anywhere else, such as datil pepper sauce.
Make sure you bring a hearty appetite since there are numerous places to grab a snack (I counted no less than 8 ice cream shops on this street during my last visit) or a delicious meal. It's also worth veering off the side streets and exploring some of the smaller alleyways.
If you want to avoid crowds, make sure to visit early in the morning. During peak times (like the holidays), the street can become very crowded.
How to get there: Since St. George Street is a pedestrian zone, there's no parking available directly on the street. I recommend parking at the Visitor Information Center and walking a couple of blocks to get to the start of St. George Street.
Cost: None; walking the street is free. You'll likely pick up some souvenirs along the way, however.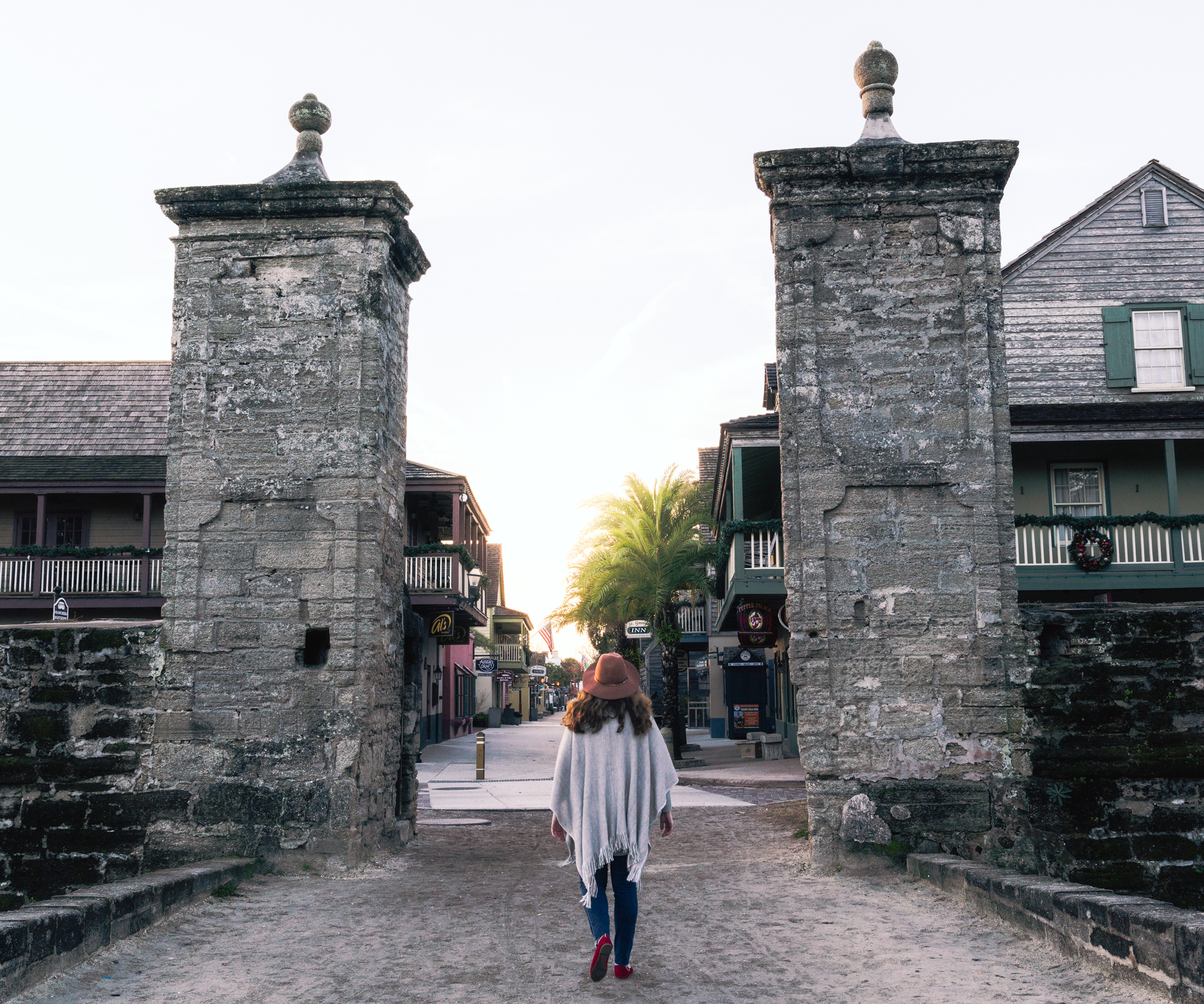 Aviles Street: Aviles Street is a hidden gem that a lot of tourists skip but it's definitely worth a visit and reminds me of the streets in Spain, with cobblestone roads and coquina walls. There's a wide range of restaurants on the street, ranging from Polish to Cuban, as well as some cute antique shops.
How to get there: Parking can be challenging so I recommend parking at the Visitor Information Center parking garage.
Cost: None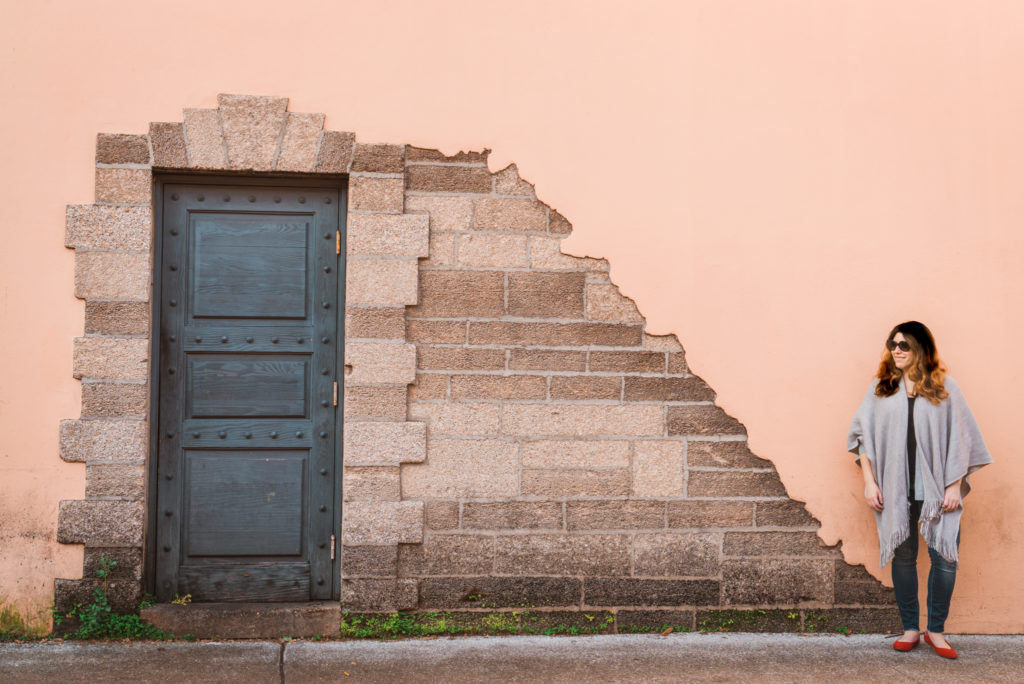 Oldest Wooden Schoolhouse: Located right on St. George Street, the Oldest Wooden Schoolhouse was built over 200 years ago, during the reign of the Spanish. Take a tour through the one-room schoolhouse to see what school like was back in the days before electricity and running water.
How to get there: 14 St George Street. I recommend parking at the Visitor Information Center parking garage
Cost: $5 for adults and $4 for kids 6-12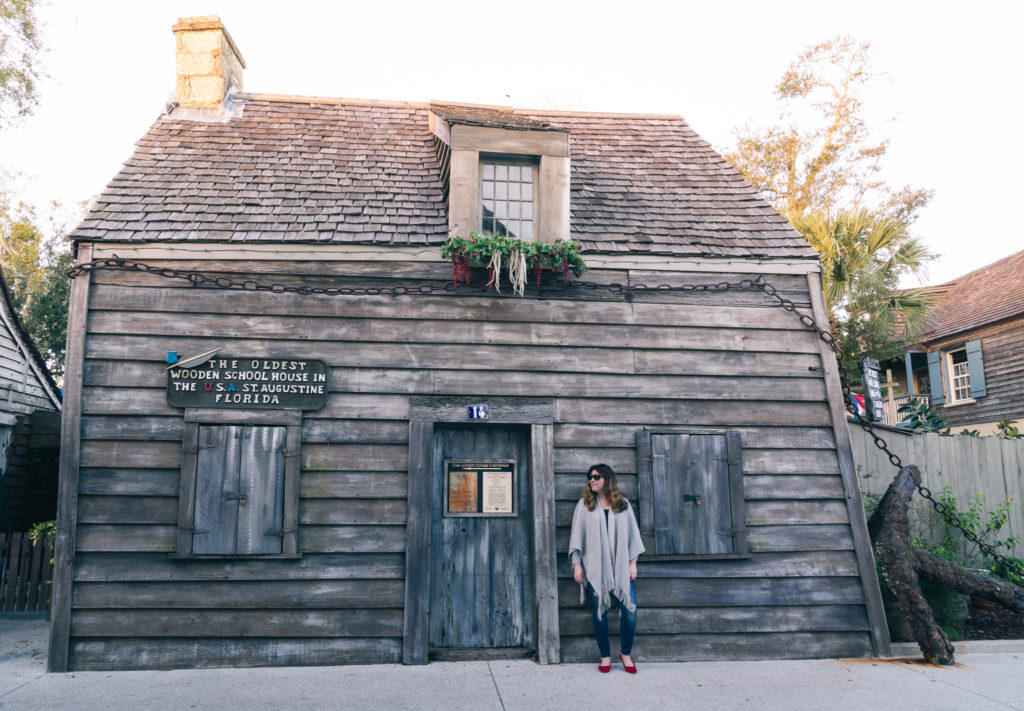 Mission Nombre de Dios: The grounds of the Mission Nombre de Dios are gorgeous, with moss-covered trees and wetlands. You'll find a candle-lit chapel on the grounds, dating back to 1914, which pays tribute to Our Lady of La Leche. Make sure to keep your eye on the water since I almost always see wild dolphins playing in the little bay.
How to get there: 89 A1A, St. Augustine, FL 32084. Parking is free
Cost: None, although donations are accepted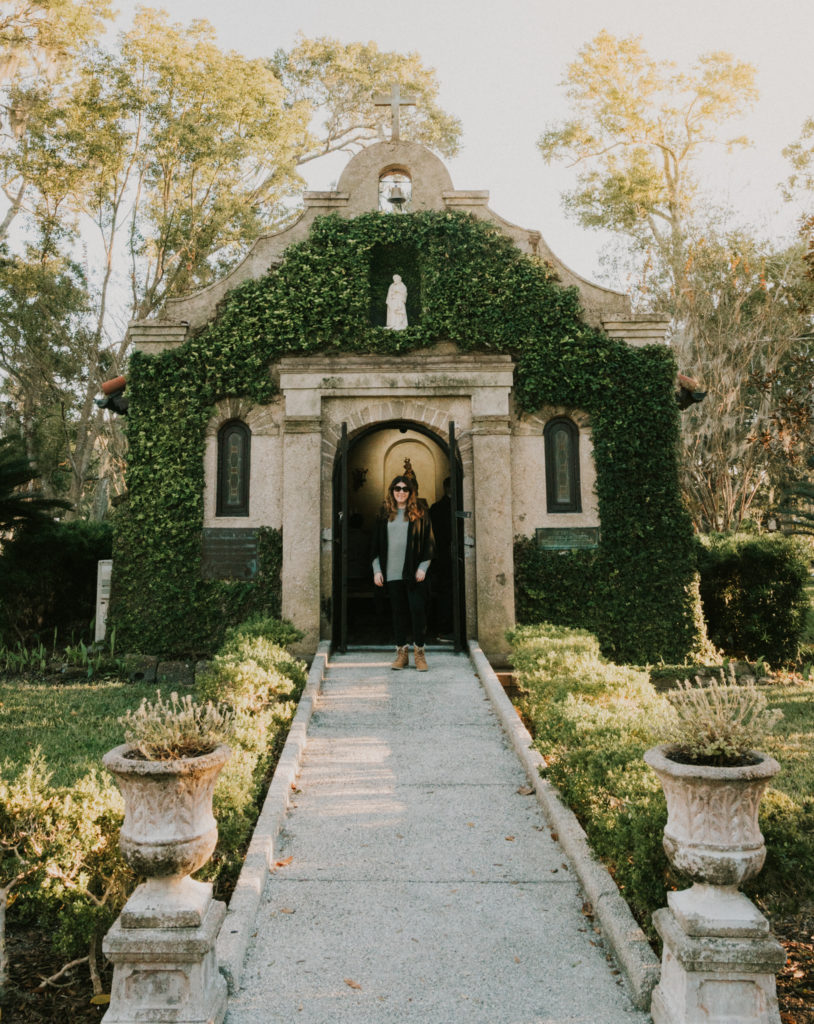 Fountain of Youth: If you visit the Mission Nombre De Dios, it also makes sense to swing by the Fountain of Youth, a 15-acre historical attraction, where you can sample waters from the natural spring and take in the views of the water. You can also learn more about the Timucuan native Americans who lived in the area for over 3,000 years until the Spanish arrived in the 1500s.
How to get there: 11 Magnolia Avenue, St. Augustine, FL 32084. Parking is free
Cost: Adults, $15; Children 6-12, $9 (children under 5 are free)
Lightner Museum: Located in the former Alcazar Hotel built by Henry Flagler, the Ligthner Museum contains a diverse collection of art from the 19th-century. Walking through the museum, you'll find everything from stained glass to costumes and furnishings. I recommend spending at least a couple of hours wandering around this msueum.
How to get there: 75 King Street, St. Augustine, FL 32084. There is a metered parking lot just behind the museum.
Cost: Adults, $15, 12-17 year olds, $8, children under 11 are free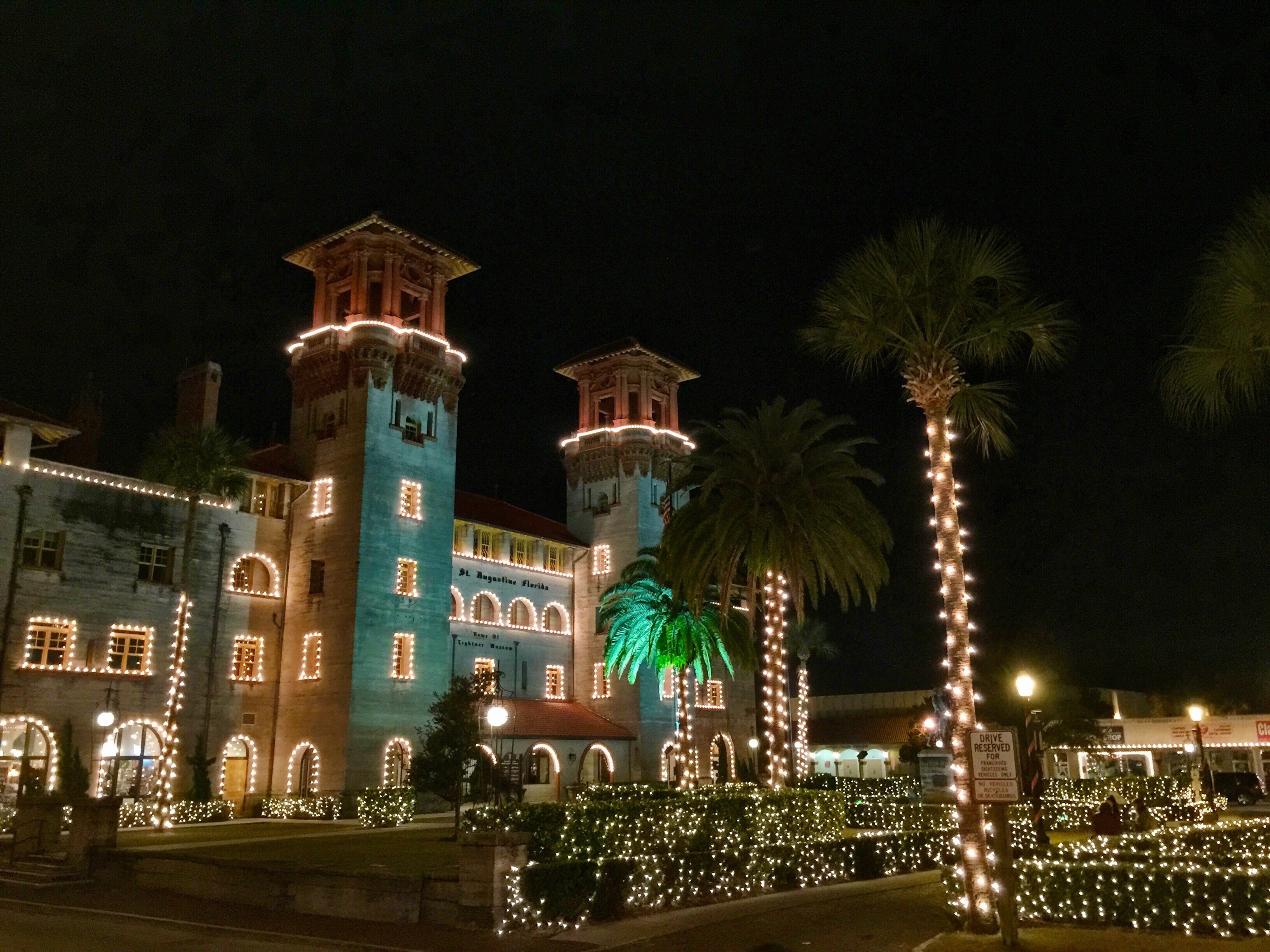 Flagler College: Flagler College is located just across the street from the Ligthner Museum and it's well worth a visit. Like the Ligthner Museum, the college is a former hotel, known as the Ponce de Leon Hotel. Without a tour, you're limited to seeing the courtyard, the lobby and the exterior. Tours are available twice a day and will give you access to a larger portion of the college.
How to get there: 59 St. George St, St. Augustine, FL 32084. I recommend parking at the Ligthner Museum and crossing the street to reach Flagler College.
Cost: Adults, $12; children under 10 are free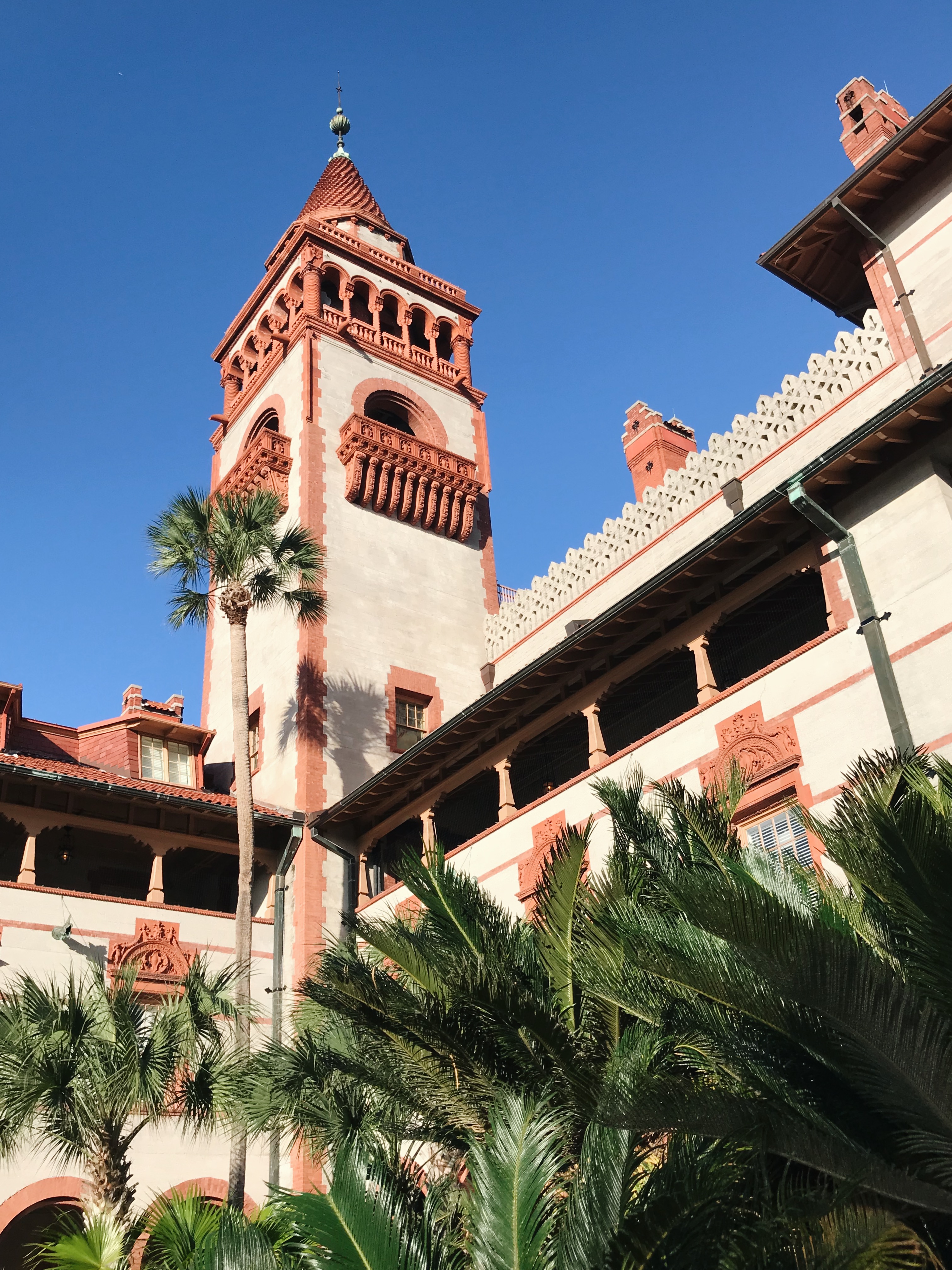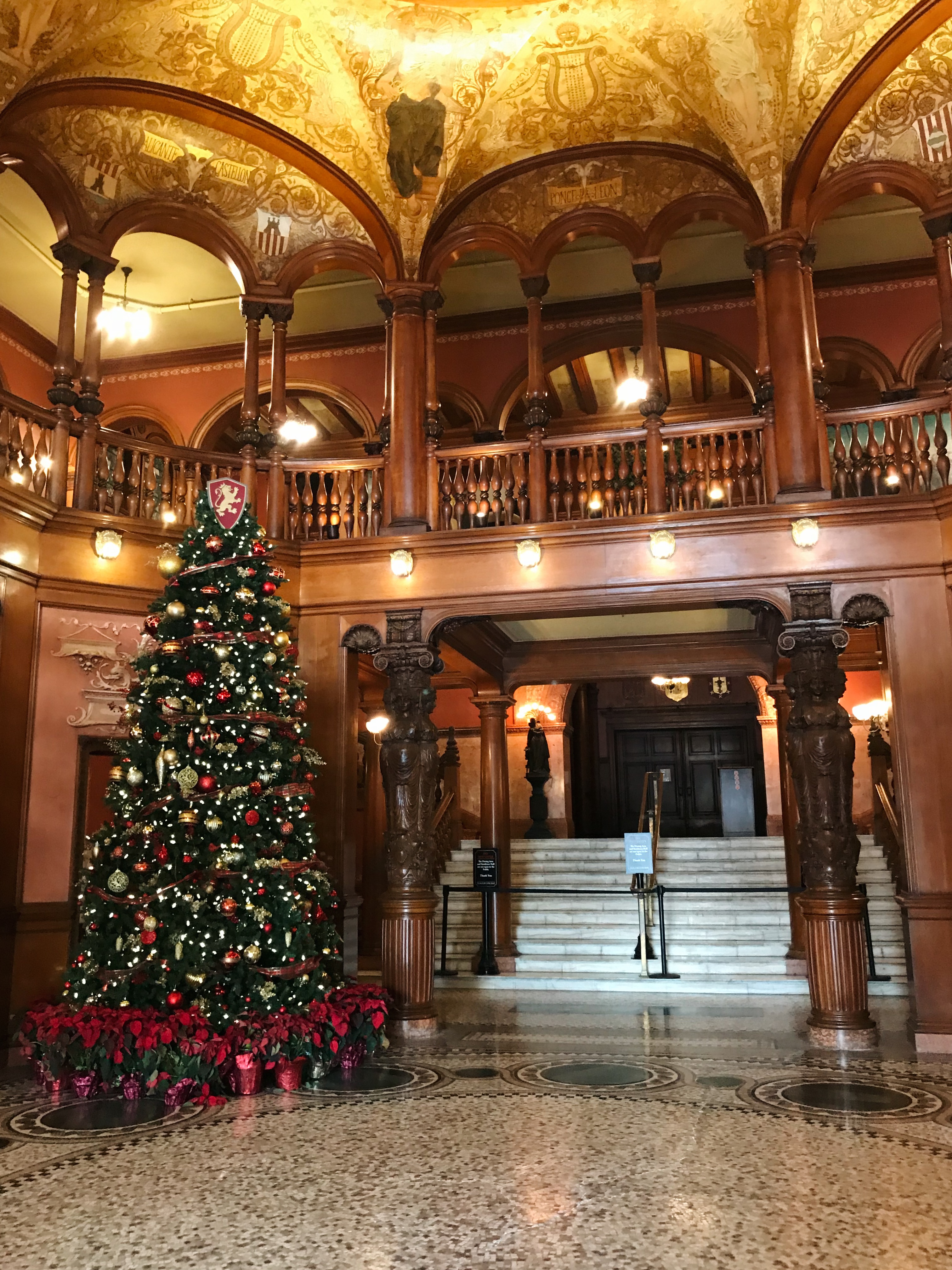 The Old Jail: Visit this historic jail to learn about some of the most interesting criminals that once occupied the jail cells. You'll be taken on a guided tour of the jail to learn what life was like for inmates in the late 1800s and early 1900s.
How to get there: 167 San Marco Ave, St. Augustine, FL 32084. I recommend parking in the Visitor Information Center parking garage.
Cost: Adults, $10; children $6
Memorial Presbyterian Church:Memorial Presbyterian Church holds a special place in my heart since my mother was a member and attended regularly before she passed away. Henry Flagler built this church for his daughter, who died in 1889. It's worth walking by to view the church's exterior, which was modeled on the Basilica of St. Mark in Venice. Tours are available if you want to learn more about the history of the church.
How to get there: 32 Sevilla St, St. Augustine, FL 32084. There's a metered parking lot across the street.
Cost: None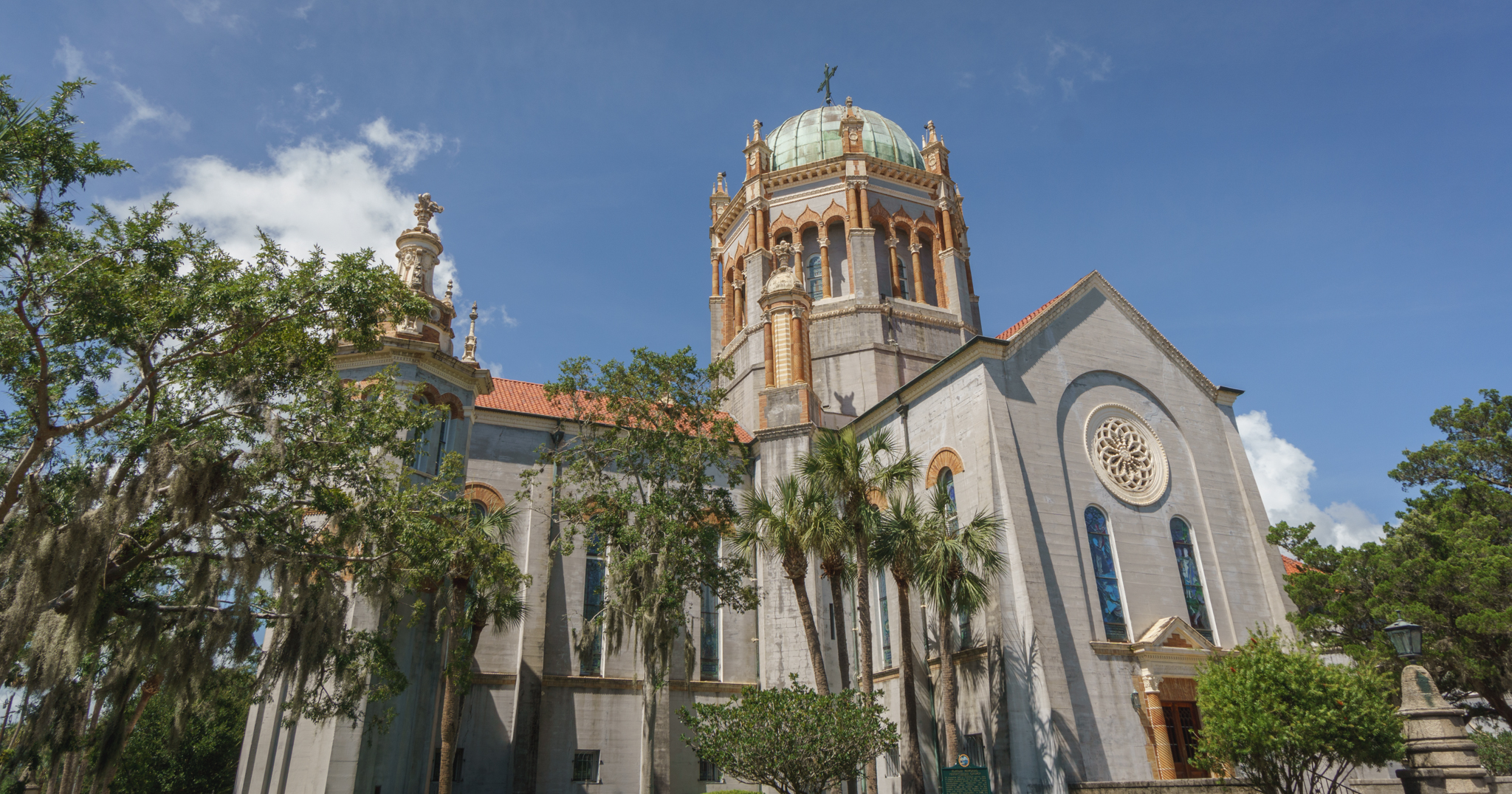 Nights of Lights: Between November and early February, the historic district of St. Augustine gets completely decked out in white lights, know as Nights of Lights. National Geographic has included St. Augustine in their roundup of the best holiday light displays around the world. One of my favorite ways to experience Nights of Lights is to walk through the historic district on foot. If you're visiting at peak times before Christmas, downtown is going to be incredibly crowded so plan accordingly if you plan on eating dinner.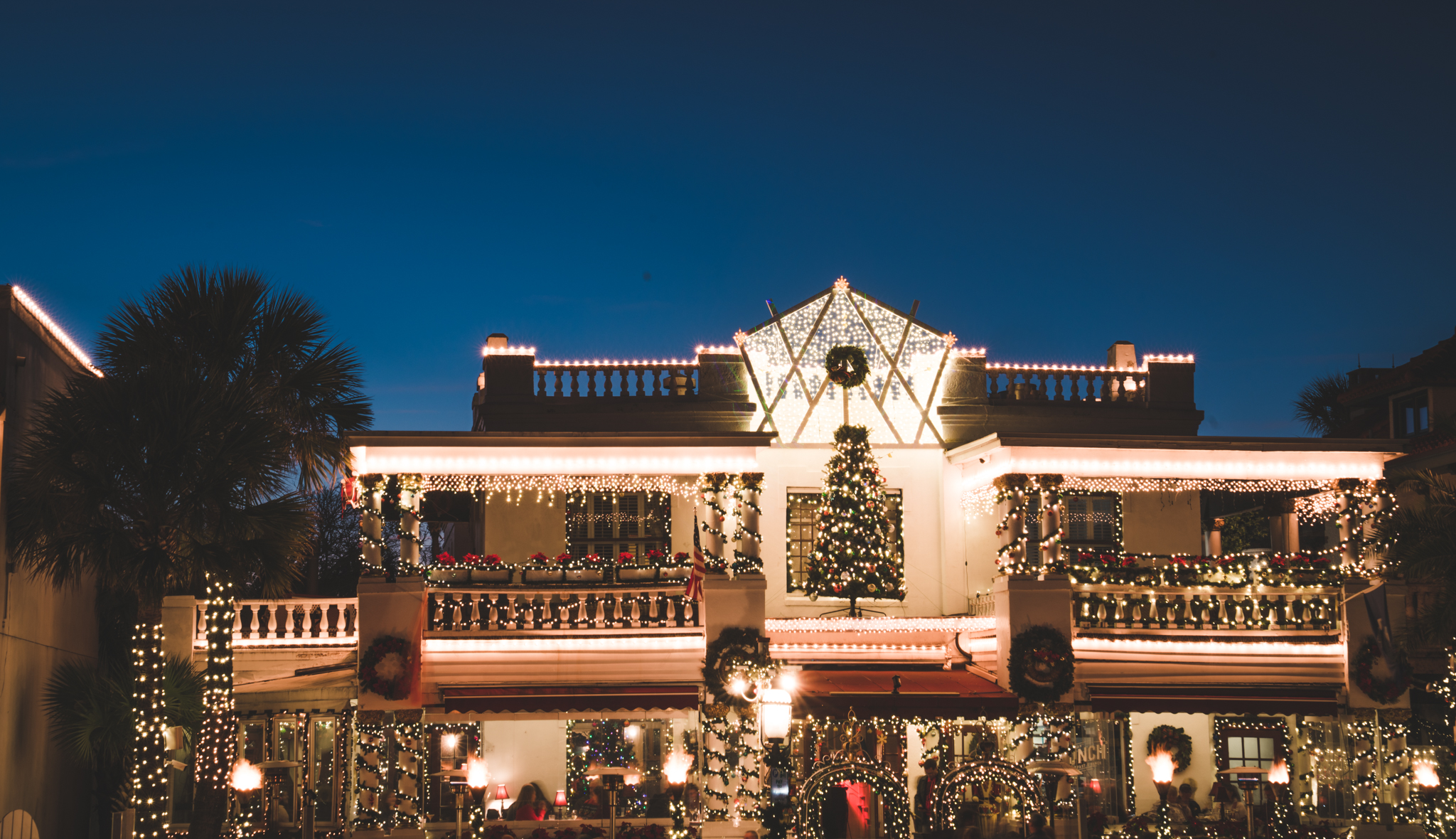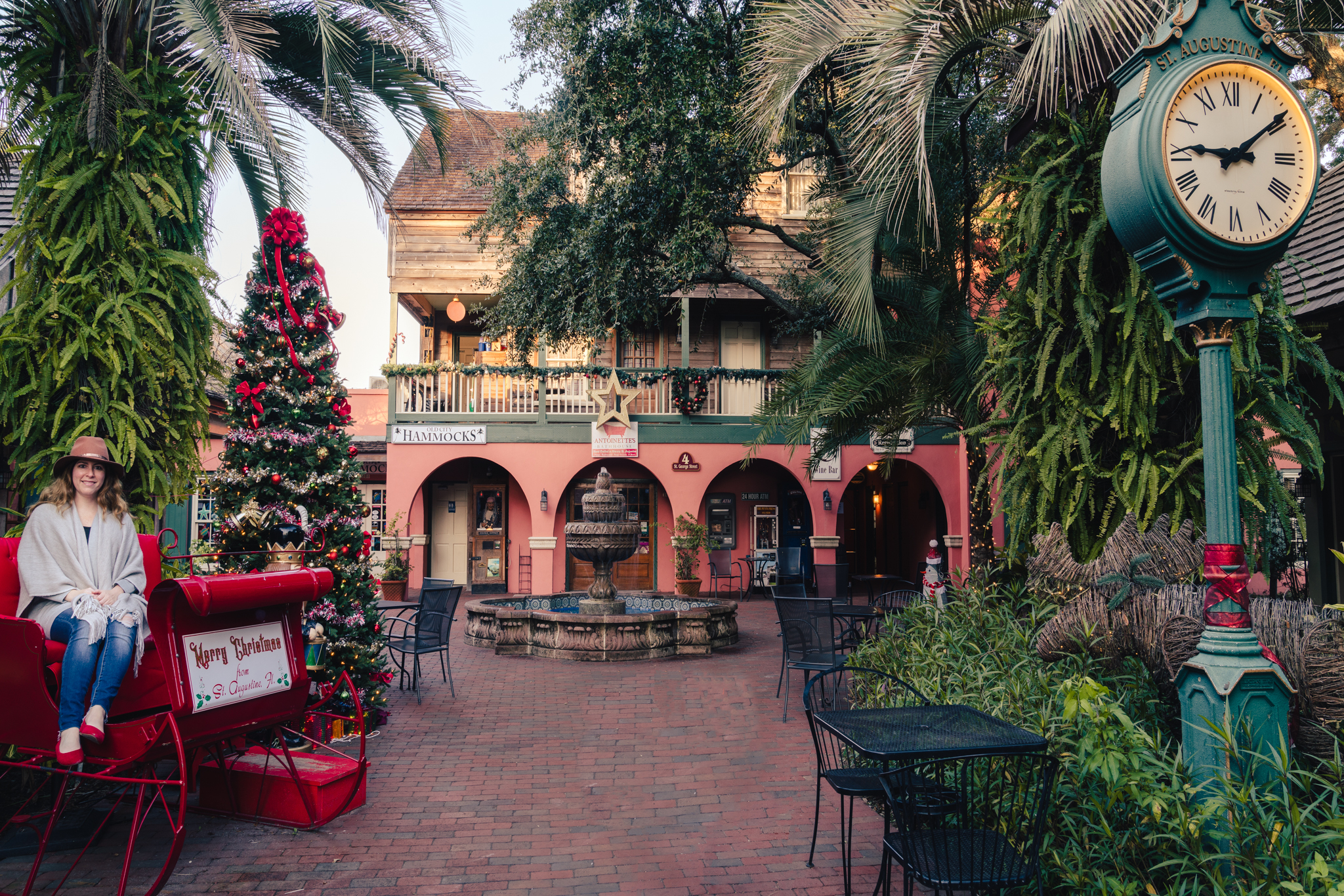 St. Augustine Beaches: The St. Augustine area has so many beaches to choose from and on many of them, you can drive and park your car directly on the sand. If you're looking with a more popular beach with amenities, head to the "A Street" access point. If you're looking for a quieter destination, I recommend heading to Anastasia State Park, which consists of a protected bird sanctuary, three miles of beach and kayak/paddle board rentals.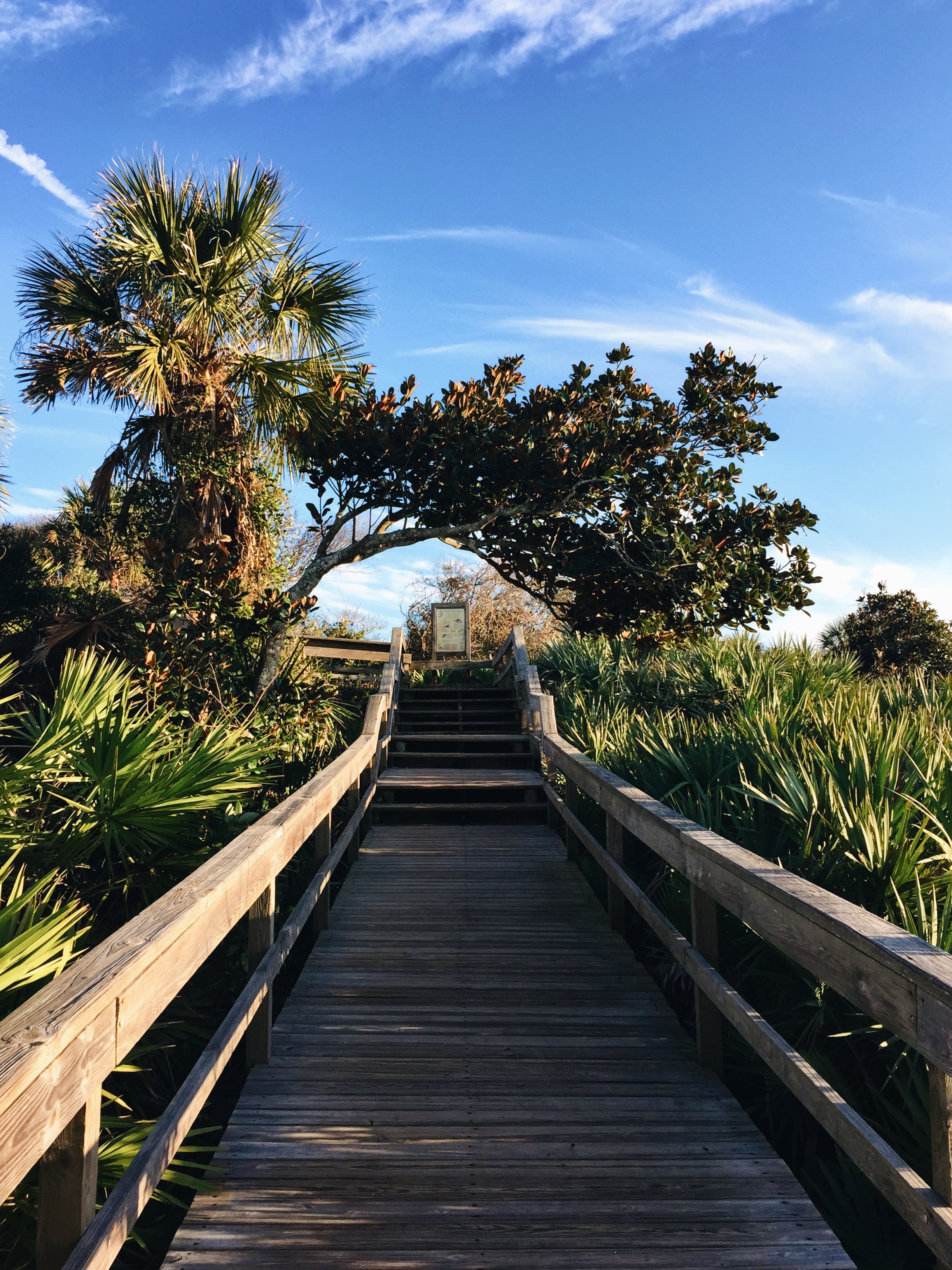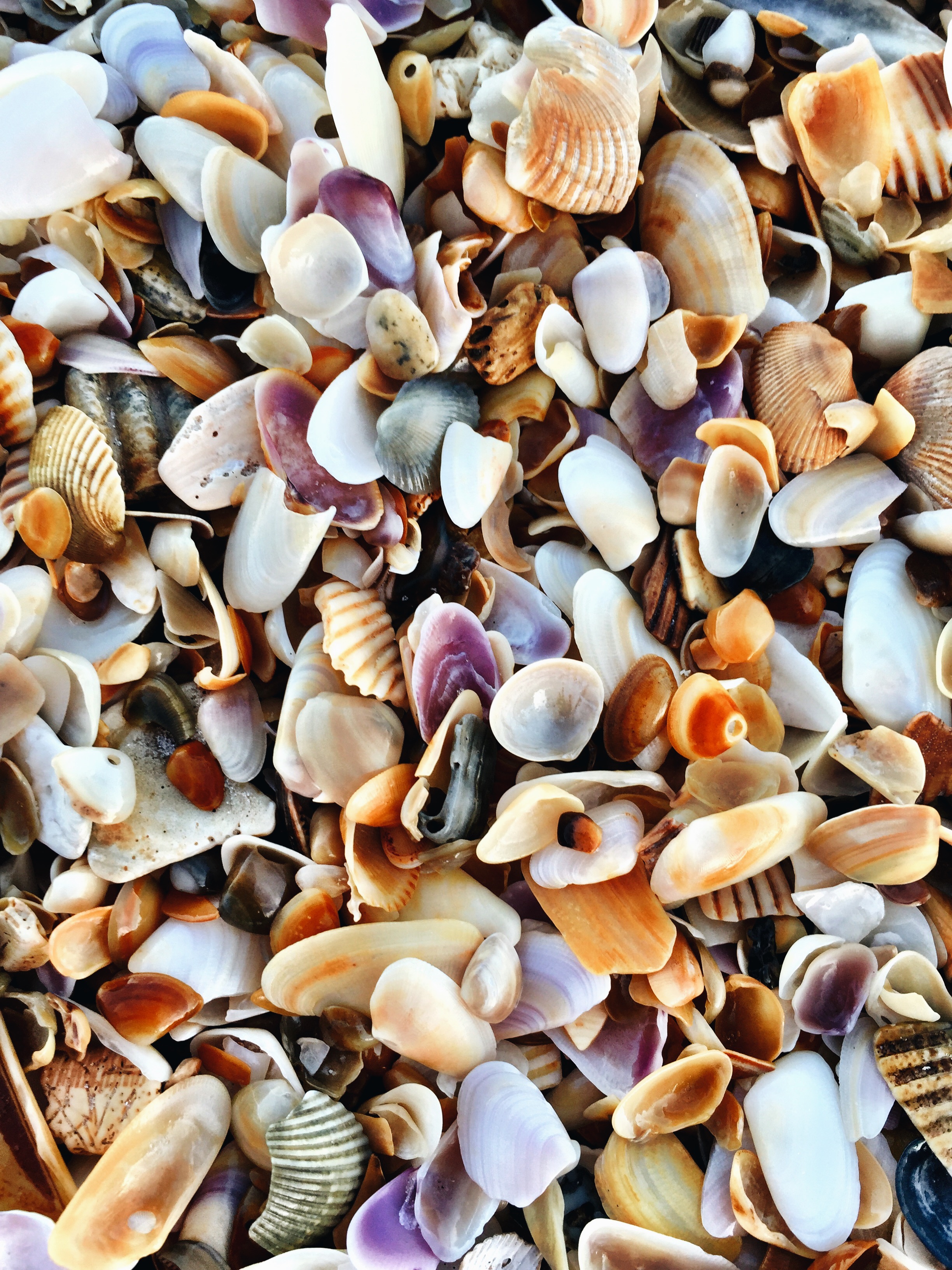 Fort Matanzas National Monument: Fort Matanzas National Monument bears some similarities to the Castillo de San Marcos. It was also built by the Spanish for defense. Located 15 miles south of downtown St. Augustine, the fort is less well-known than the Castillo de San Marcos. If you visit, make sure to stop by the parking lot just south of the fort for Matanzas Inlet. This area is well-known by locals for dolphin-watching; I see them almost every time I visit this spot. It's also a great spot to launch your kayak or paddle board. If you go for a swim, be careful because the tides are often strong.
How to get there: 8635 A1A South, St. Augustine, FL 32080
Cost: None; admission to the fort is free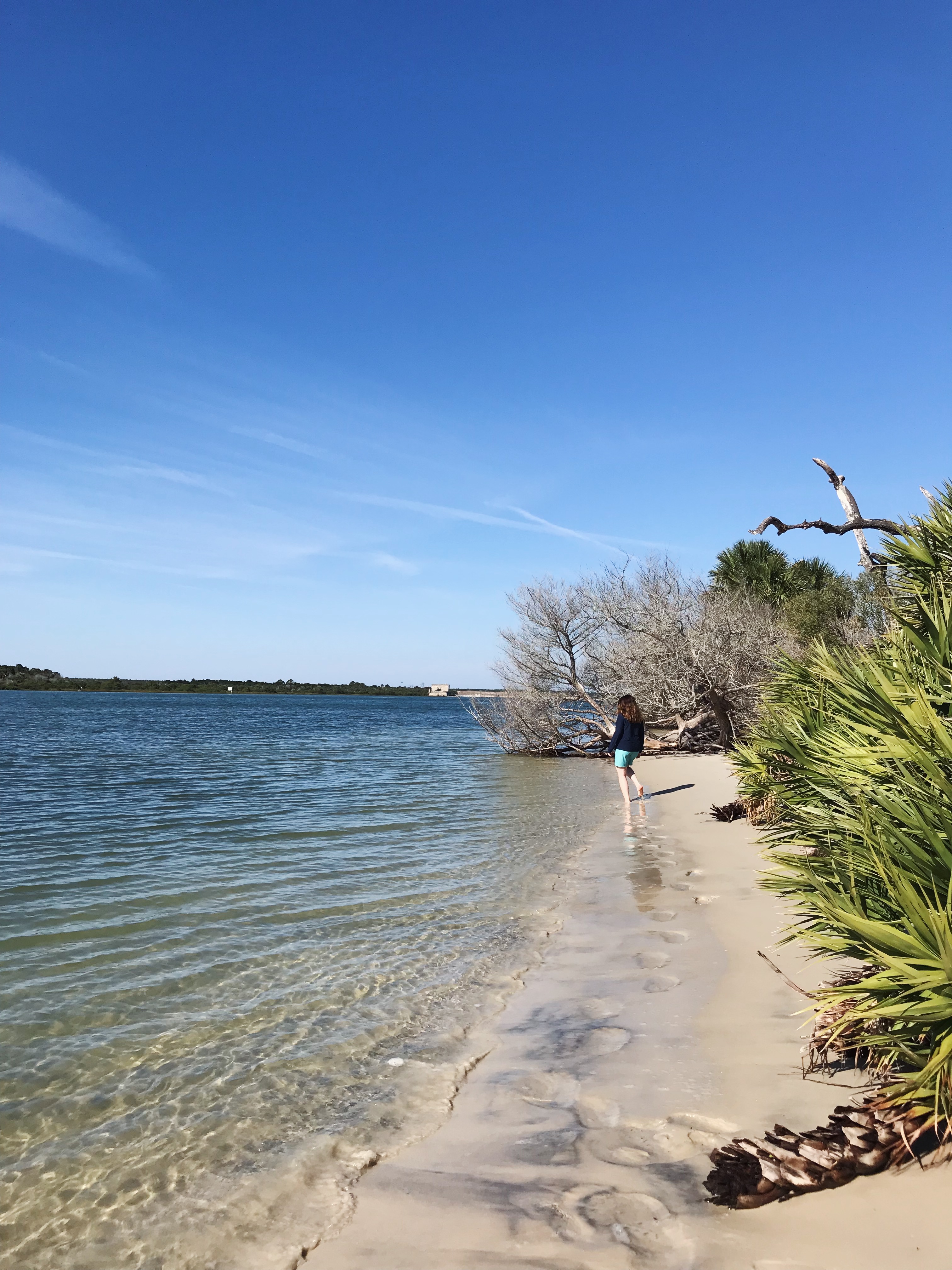 St. Augustine Lighthouse: Visit the lighthouse and climb the 219 steps to the top for spectacular views of downtown St. Augustine and the beaches. In addition to climbing up the lighthouse, you'll also want to spend time strolling through the gorgeous grounds, filled with ancient trees with Spanish moss.
How to get there: 81 Lighthouse Avenue, St. Augustine, FL 32084
Cost: Adults, $12.95, children, $10.95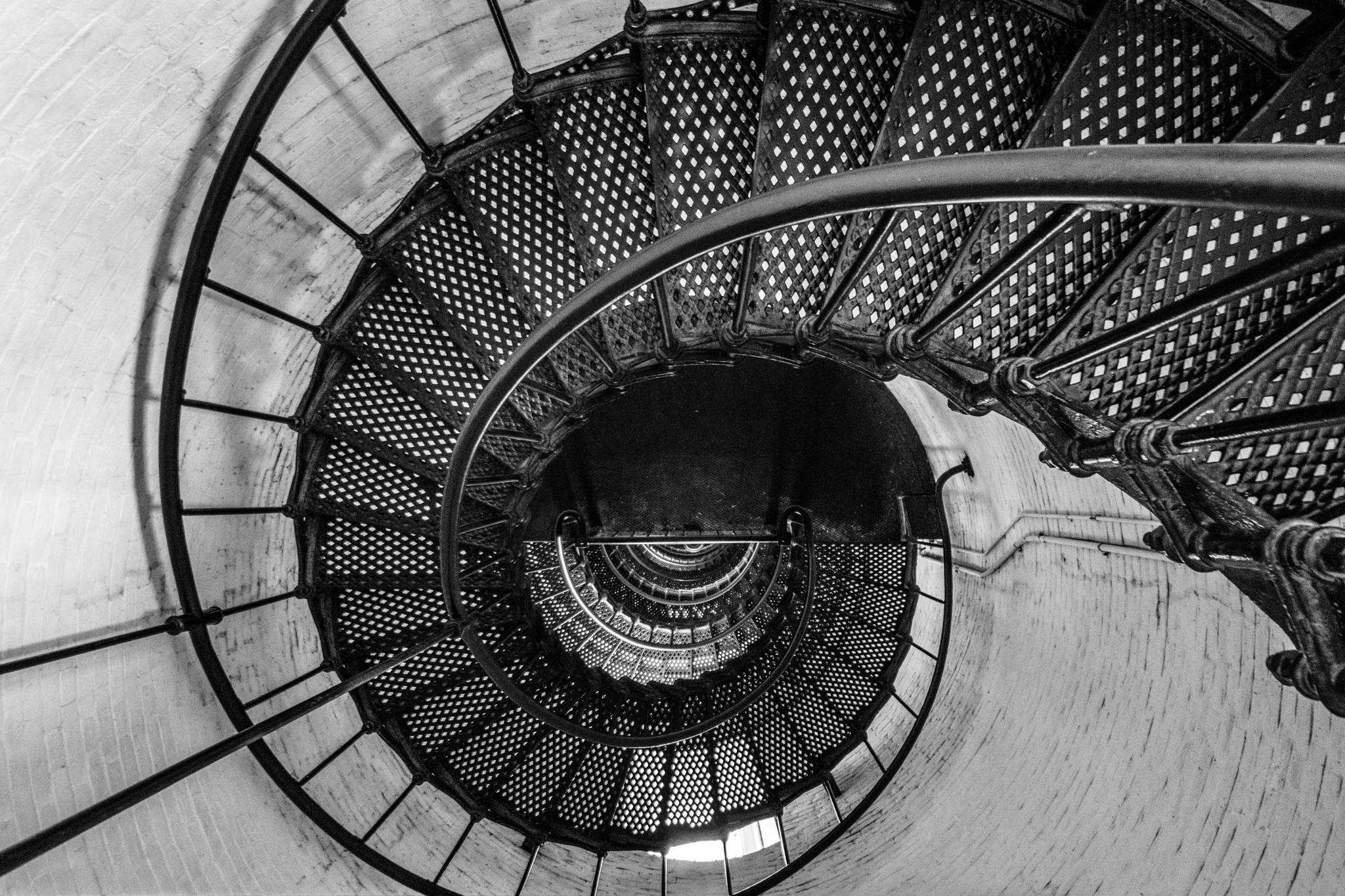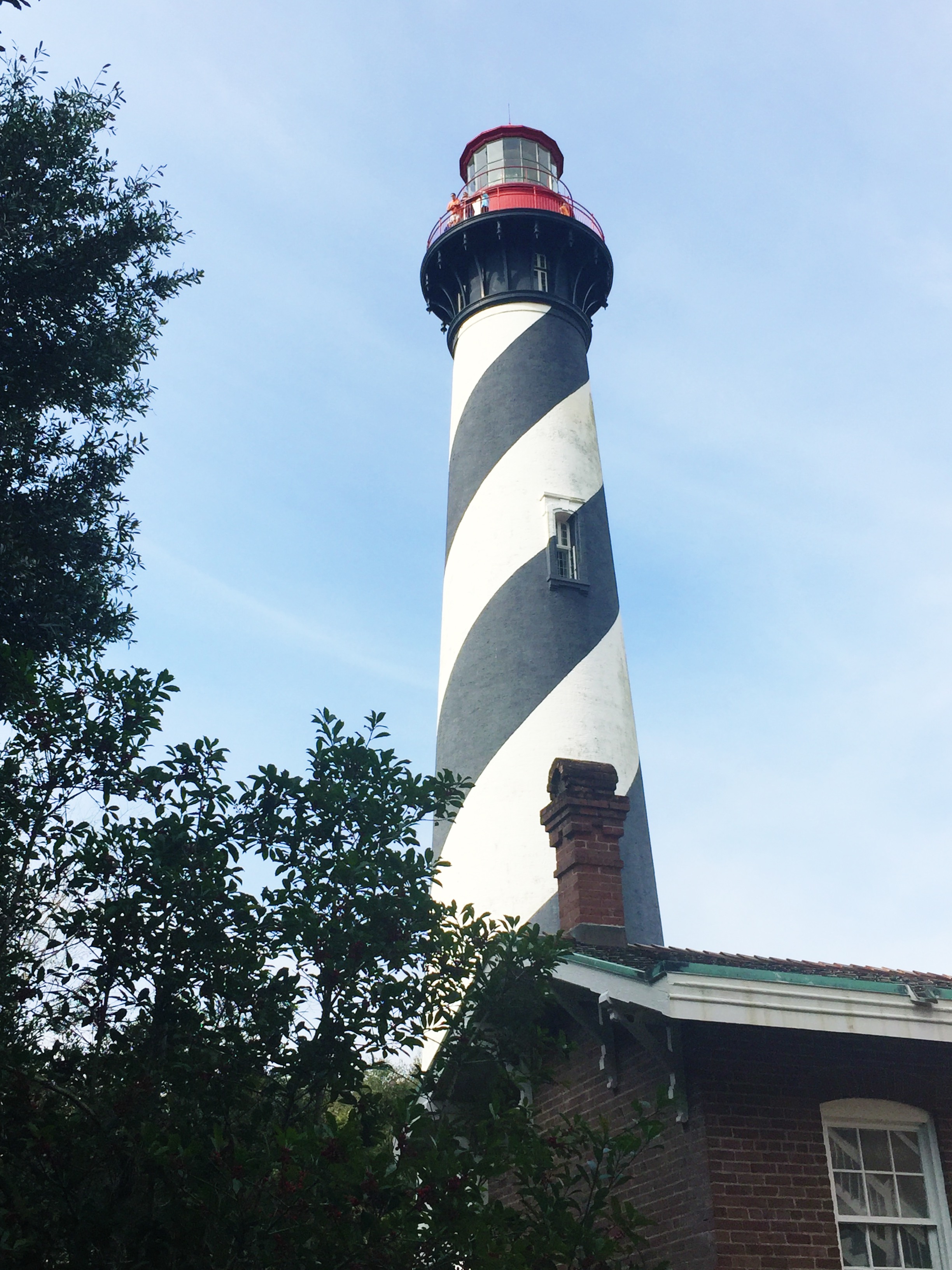 Live Music: If you're a fan of live music, make sure to visit downtown St. Augustine on Saturday. Some of my favorite spots in the historic district for catching some live music include: Mill Top Tavern, Tini Martini Bar, Mi Casa Cafe, Harry's Seafood, White Lion and Prohibition Kitchen.
Disclaimer: There are affiliate links on this page, which means I get a small commission if you purchase some of the products or services I recommend. I would never, ever recommend any product or service that I wouldn't personally use myself. 
Pin It For Later