I'm about to take my third trip to Italy later this month and could not be more excited. Especially since this time, I'm going with my new husband and close friends. I love thinking about all of the adventures we'll go on, the amazing sights we'll see and the delicious (hopefully) food we'll eat. The one thing I dread: Packing.
Whether it's a three-week excursion or a weekend getaway, I've always struggled with "packing light." Having lugged a much-too large bag around on my last European vacation, I have vowed to take essentials, reuse my outfits and even leave a little room for souvenirs (like shoes!). The challenge thickens as I don't plan to check any bags. Not only does it save me a few bucks, but I just like the idea of having my stuff with me. There's nothing worse than getting your luggage lost.
So, here's my plan:
Bags: For this trip, I'm taking a carry-on size bag for my main luggage, a small backpack and a compact purse that zips for walking around during the day. You can keep all of the at-hand essentials (books, headphones, earplugs, sweater, toiletries, etc) in your backpack for easy access on the plane, train or cab. Plus, it's great for day trips.
Clothes: I used to ask my husband if I could slip a pair of shoes (or two) in his typically half-full bag, but I vow to no longer put that burden on him!
There are so many factors to ponder: Consider the weather at your intended destination. How long will you be gone? Plan outfits in advance and only bring pieces you will wear more than once.  Will you be going to a nice dinner or bar? It's a great idea to bring at least one outfit that can go from causal to dressy.
Also, cut back on what you bring if you'll have access to a washing machine.
Shoes: This is my Achilles heel. I. Love. Shoes. I love all types, heights and colors. Like a very stereotypical woman, I can't have too many. So, when it comes to packing, I tend to bring copious pairs and end up deeply regretting it. I want to be smarter about the kinds of shoes I bring. Never again will I walk the endless streets of Europe in unsupportive sandals!
For my purposes, I plan to bring a pair of sneakers that are stylish and practical for walking (this took some finding, but I like a shoe challenge), a dressier sandal and flip flops. That. Is. It. I'm comforted only by the fact that I'll have room in my bag to store that unique pair of Italian shoes I plan to find.
Accessories: A versatile scarf is a must-have for any travel excursion. Not only is it good for shielding yourself from the unwanted germs of your fellow travelers, it's classy. I also bring one dressy and one casual necklace, and 2-3 pairs of earrings.
Here's what I ended up packing for a 19-day trip where I'll have access to a washing machine:
Carry-on bag
1 lightweight jacket
1 versatile sweater
1 pair of denim shorts
7 tops (more tops than bottoms = wider outfit variety)
4 lightweight dresses (1 or 2 that can go from day to night)
2 pairs of jeans
5 pairs of socks
2 bras (1 strapless)
10 pairs of underwear
1 bathing suit
1 cover-up
1 pair of yoga pants (for plane & lounging)
1 pair of sleeping shorts & tank
1 pair sneakers; 1 pair sandals; flip-flops
2 necklaces, 2 pairs earrings
Toiletries
Hair straightener (a necessity for me)
Copies of passport & driver's license
Backpack
Scarf
Sweatshirt/sweater
Sunglasses
Phone charger & European wall converter
Batteries
2 books
Water bottle
Passport
Essential toiletries bag
Purse
Stray tips:
Wedding bling: Leave the rock, take the band.
New shoes? Break them in before you leave. Really.
Learn a few essential words/phrases of the country you're visiting and use them. It's respectful.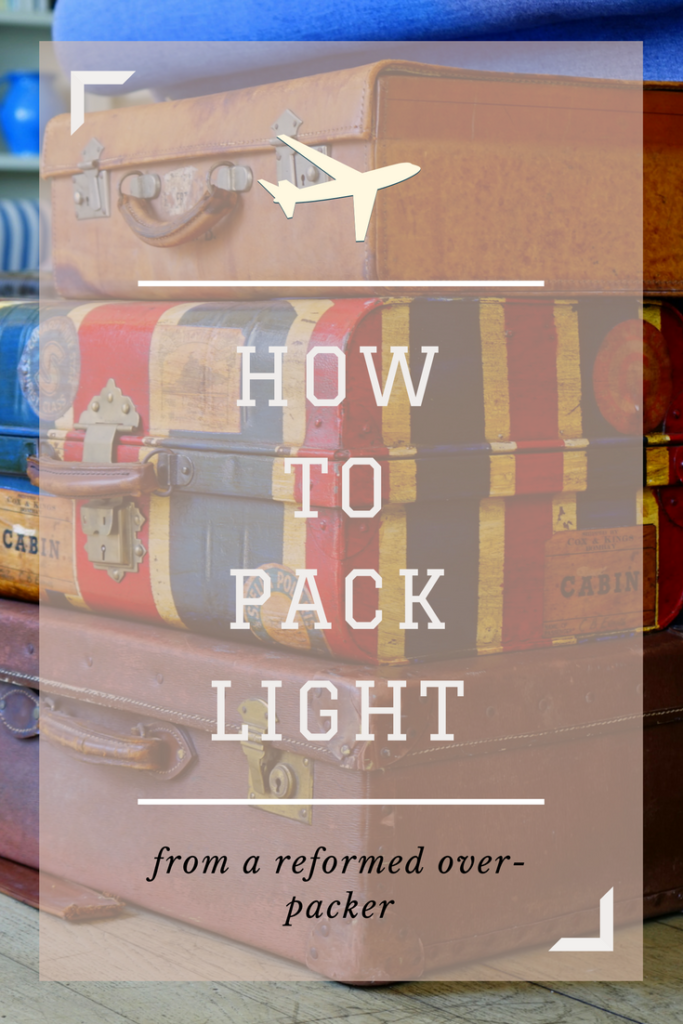 %CODE8%